»

Recipes

»

Brownie

»

Raspberry Brownie Torte
Raspberry Brownie Torte Recipe
Need a wow? Here's a rich chocolate dessert that will please any chocolate lover.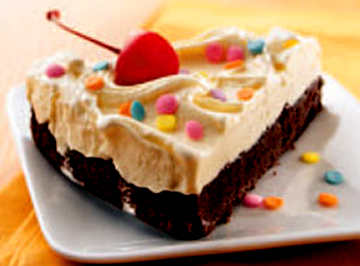 Summary
Preparation Time
15 Min
Cooking Time
1 Hr 45 Min
Ready In
2 Hr 0 Min
Difficulty Level
Medium
Health Index
Just Enjoy
Servings
8
Ingredients
Butter

1⁄2 Cup (8 tbs)

, softened

Eggs

3

Semisweet chocolate chips

2⁄3 Cup (10.67 tbs)

, melted and cooled

All purpose flour

1⁄4 Cup (4 tbs)

Raspberry sauce

1⁄2 Cup (8 tbs)

Frozen raspberries in juice

10 Ounce

(Thawed, Drained And Juice Reserved)

Sugar

1⁄4 Cup (4 tbs)

Cornstarch

2 Tablespoon
Nutrition Facts
Serving size
Calories 318 Calories from Fat 147
% Daily Value*
Total Fat 17 g25.8%
Saturated Fat 9 g44.9%
Trans Fat 0 g
Cholesterol 109.5 mg
Sodium 76.5 mg3.2%
Total Carbohydrates 40 g13.3%
Dietary Fiber 1.4 g5.6%
Sugars 27.3 g
Protein 4 g7.2%
Vitamin A 8.9% Vitamin C 8.9%
Calcium 1.9% Iron 4%
*Based on a 2000 Calorie diet
Directions
1. Heat oven to 400ºF. Grease and flour round pan, 8x1 1/2 inches.
2. In medium bowl, beat 1/2 cup sugar and the butter with electric mixer on medium speed until smooth. Stir in eggs and melted chocolate until smooth and blended. Stir in flour. Pour into pan.
3. Bake 18 to 20 minutes or until toothpick inserted in center of torte comes out clean. Cool 10 minutes; remove from pan to wire rack. Cool completely, about 1 hour.
4. Meanwhile, add enough water to reserved juice to measure 1 1/4 cups. In 1 1/2-quart saucepan, mix 1/4 cup sugar and the cornstarch. Stir in juice mixture and raspberries. Heat to boiling over medium heat, stirring frequently. Boil and stir 1 minute; cool. Strain sauce through a strainer to remove seeds. Serve torte with sauce.

Looks good. This raspberry brownie torte recipe is wonderful. I am a chocolate lover. So it would be a good choice for holiday cooking. On coming holiday I surely try this recipe.
Posted on:
21 February 2008 - 4:02pm