»

Recipes

»

Sorbet
Raspberry Sorbet Recipe
Raspberry Sorbet is an amazingly easy to prepare dessert which cannot just escape your guest's attention in any party. Serve this delicious Raspberry Sorbet to them, I bet everyone will praise for your creativity.
Raspberry Sorbet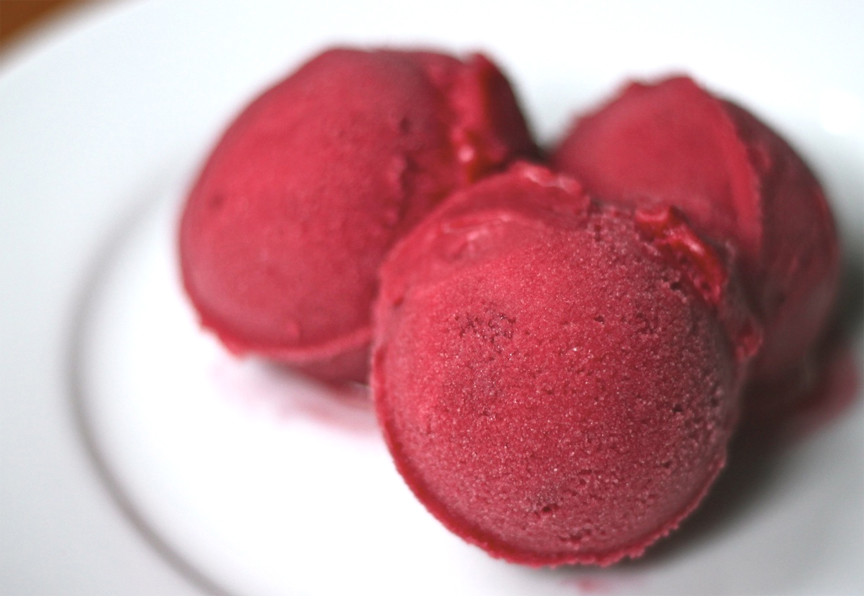 Ingredients
Raspberries

1 Pound

Sugar

6 Ounce

Water

1⁄2 Pint

Orange

1

, juiced

Egg whites

3
Nutrition Facts
Serving size: Complete recipe
Calories 1009 Calories from Fat 29
% Daily Value*
Total Fat 3 g5.3%
Saturated Fat 0.13 g0.63%
Trans Fat 0 g
Cholesterol 0 mg
Sodium 148.9 mg6.2%
Total Carbohydrates 243 g81.1%
Dietary Fiber 33.3 g133.2%
Sugars 205.1 g
Protein 16 g32.1%
Vitamin A 10.1% Vitamin C 317.3%
Calcium 19% Iron 18.7%
*Based on a 2000 Calorie diet
Directions
Puree the raspberries in a blender then pass through a nylon sieve and discard all the pips.
Put the sugar and water in a pan and heat gently until the sugar has dissolved, then bring to the boil and simmer for 5 minutes.
Remove from the heat and stir in the raspberry puree and orange juice.
Pour into a bowl and leave to cool.
Put into a 3 1/2 pint (2-1) polythene container and place in the freezer and leave until partially frozen.
Whisk the egg whites with an electric or hand rotary whisk until stiff and then whisk in the partially frozen puree a tablespoonful at a time.
Return to the container, cover, label and freeze.