»

Recipes

»

Sauce

»

Raspberries In Melba Sauce
Raspberries in Melba Sauce Recipe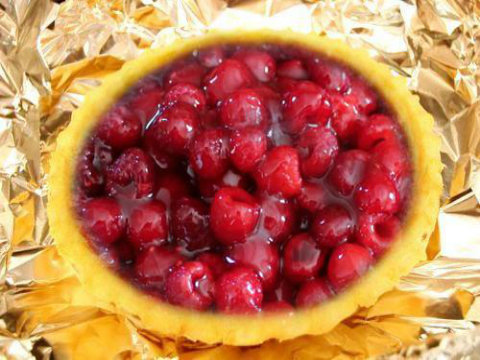 Nutrition Facts
Serving size
Calories 123 Calories from Fat 13
% Daily Value*
Total Fat 2 g2.4%
Saturated Fat 0.04 g0.22%
Trans Fat 0 g
Cholesterol 0 mg
Sodium 2.4 mg0.1%
Total Carbohydrates 28 g9.4%
Dietary Fiber 15.4 g61.5%
Sugars 10.5 g
Protein 3 g5.7%
Vitamin A 1.6% Vitamin C 103.3%
Calcium 5.9% Iron 9.1%
*Based on a 2000 Calorie diet
Directions
Method Puree one-third of the raspberries by pushing them through a sieve, or pureeing them in a blender, then straining to remove the seeds.
Sift sugar and beat into puree a little at a time.
Pour this sauce over remaining raspber- ries in a serving bowl and chill at least 1 hour before serving.
Really ripe gooseberries are sweet enough to eat out of hand, but tart ones are best cooked and eaten either as a compote, or pureed as in one of the following recipes.
Since goose- berries are rarely available, you can use blackberries or plums instead.

TEKLA HEINZE says :
I SAW JAMES BEARD ON A TV SHOW SOME TIME AGO WHEN I LIVED IN CHICAGO. HE PUREED RASPBERRIES, ADDED SUGAR AND ADDED A LIQUOR AND THEN PORED OVER STRAWBERRIES AND TOPPED W/WHIPPED CREAM THAN WAS SWEETENED AND ALSO ADDED LIKE KIRSH? I CAN NOT FIND THE RECIPE HE SENT ME AFTER I WROTE..ITS AN ELEGANT FINISH TO A GREAT MEAL..WHERE CAN I FIND JAMES RECIPE??
Posted on:
14 March 2012 - 1:37am