»

Recipes

»

Omelette

»

Baked Country Omelette
Baked Country Omelette Recipe
Country French Omelet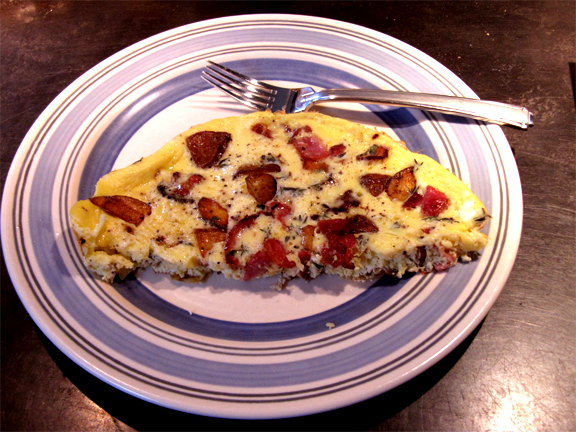 Ingredients
Potatoes package

1

3 c. very hot water

1/2 lb. bulk sausage

Onion

1/4 Cup (16 tbs)

, chopped

Green pepper

1/4 Cup (16 tbs)

, chopped

4 1/2 oz. jar sliced mushrooms

1/2 c. very hot water

Milk

1/2 Cup (16 tbs)

(Topping:)

Eggs

6

(Topping:)
Directions
Heat oven to 350B Grease 8Nx 12Npan.
In large bowl, cover potato slices with 3 c hot water; let stand while frying sausage and onion (fry sausage until meat is crumbly and loses pink color); drain.
Drain potatoes and add with green pepper and mushrooms to sausage mixture.
Stir well.
Spoon into pan.
In bowl, combine au gratin seasoning envelope with 1/2 c water.
Beat in milk and eggs and mix well.
Pour over sausage mixture.
Bake 35-40 min To serve, cut into squares.