»

Recipes

»

Indian

»

Dal

»

Rajasthani Spicy Dal-Stuffed Bread (Urad Dal Poori)
Rajasthani Spicy Dal-Stuffed Bread (Urad Dal Poori) Recipe
These spicy, fried breads called Urad Dal Pooris (and sometimes called Urad Dal Kachoris) are a popular roadside snack in Rajasthan. Uraddal can be obtained at any Indian grocer. Serve these tasty breads with hot Pumpkin and Potatoes Marwari Style, Date and Tamarind Sauce, or as a snack with a dab of fresh yogurt.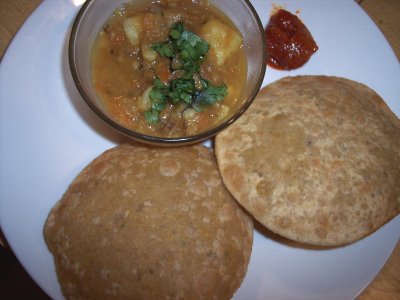 Ingredients
Urad dal

250 Milliliter

(1 Cup)

Sifted chapati flour/Half-wholemeal and half-unbleached plain flour

500 Milliliter

(2 Cups)

Ghee/Oil

125 Milliliter

, warmed (1/2 Cup)

Salt

10 Milliliter

(3 Teaspoon)

Water

500 Milliliter

(As required)

Coriander seeds

20 Milliliter

(1 tablespoon)

Fennel seeds

20 Milliliter

(1 tablespoon)

Cumin seeds

20 Milliliter

(1 tablespoon)

Whole black peppercorns

8

Dried red chilies

4 Large

Ghee

2 Tablespoon

(For frying)
Nutrition Facts
Serving size
Calories 844 Calories from Fat 314
% Daily Value*
Total Fat 36 g55.3%
Saturated Fat 19.7 g98.5%
Trans Fat 0 g
Cholesterol 83.1 mg
Sodium 827 mg34.5%
Total Carbohydrates 110 g36.6%
Dietary Fiber 25.6 g102.4%
Sugars 1.5 g
Protein 28 g55.7%
Vitamin A 18.5% Vitamin C 8%
Calcium 40.3% Iron 49.6%
*Based on a 2000 Calorie diet
Directions
1. Place the urad dal in a bowl, cover with cold water, and leave to soak for 4 hours. Drain, place in a blender or food processor with a sprinkle of cold water, and grind coarsely to a paste. Transfer to a small bowl.
2. In another bowl, combine the flour, 4 tablespoons (80 ml) of warm ghee, 2 teaspoons (10 ml) of salt, and enough water to make a stiff but smooth dough. Knead well and put aside, covered with a cloth, for 20 minutes.
3. Sprinkle the coriander seeds, cumin, fennel, black peppercorns, and chilies into a heavy pan and dry-roast them over moderate heat until they darken a few shades and become aromatic (a few minutes). Transfer them to a coffee grinder, or mortar and pestle, and grind them to a powder.
4. Heat 1 tablespoon (20 ml) of ghee or oil in a heavy pan over moderate heat. Add the dal paste and stir-fry it, stirring constantly over moderate heat until it starts to stick on the bottom. Remove from the heat, add the powdered spices and 1 teaspoon of the salt, and mix well. Transfer onto a plate or dish to cool.
5. Divide the dough into 20 portions. Roll each portion into a smooth ball. With a rolling pin on a slightly oiled surface, roll out each ball into a thick patty about 5 cm (2-inches) wide. Place 1 tablespoon (20 ml) of cooled filling in the centre of each one, gathering the edges of the dough back over to completely enclose the filling. Pinch the excess dough together and press it back into the centre of the patty. Flatten slightly; then with a rolling pin roll out seam side down (carefully avoiding puncturing the pastry) into a disk 5 - 71/2 cm (2 - 3 inches) wide.
6. When all the dal pooris are rolled, heat the ghee or oil in a pan or wok to 180°C/355°F and carefully slip in 3 or 4 dal pooris. They will immediately sink then rise to the surface. Press them down with a slotted spoon until they inflate. Fry them until lightly browned on one side (about 2 minutes) then turn them over and fry on the second side for another 1 or 2 minutes. Remove with a slotted spoon and drain on a triple-thickness of paper towels. Cook all dalpooris and serve hot.