»

Recipes

»

Roll

»

Raisin-Whirl Sweet Rolls
Raisin-Whirl Sweet Rolls Recipe
Raisin-Whirl Sweet Rolls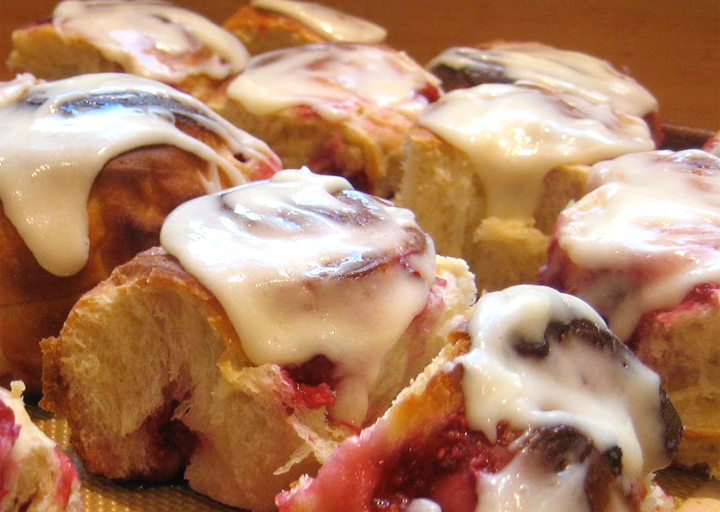 Ingredients
| | | |
| --- | --- | --- |
| | Yeast | 4 1⁄2 Teaspoon |
| | Milk | 3⁄4 Cup (12 tbs) |
| | Sugar | 1⁄3 Cup (5.33 tbs) |
| | Salt | 2 Teaspoon |
| | Butter | 1⁄3 Cup (5.33 tbs) |
| | Egg | 1 |
| | Flour | 4 1⁄2 Cup (72 tbs) |
| | Rolled oats | 1 Cup (16 tbs) |
| | Melted butter | 1 Tablespoon |
| | Brown sugar | 1 Cup (16 tbs) |
| | Cinnamon | 2 Teaspoon |
| | Raisins | 1⁄2 Cup (8 tbs) |
Nutrition Facts
Serving size: Complete recipe
Calories 4531 Calories from Fat 844
% Daily Value*
Total Fat 96 g148%
Saturated Fat 52.8 g264.2%
Trans Fat 0 g
Cholesterol 421.9 mg
Sodium 4052.4 mg168.9%
Total Carbohydrates 846 g281.9%
Dietary Fiber 34.6 g138.3%
Sugars 332.7 g
Protein 88 g176.3%
Vitamin A 53.9% Vitamin C 4.1%
Calcium 51.2% Iron 188.6%
*Based on a 2000 Calorie diet
Directions
GETTING READY
1) Preheat oven to 375° F.

MAKING
2) Take 1/2 cup warm water and dissolve yeast in it.
3) Pour the scalded milk over salt, sugar and butter until butter melts completely, stirring occasionally.
4) Allow the mixture to turn lukewarm.
5) Add egg, 1 cup flour, oats and yeast mixture.
6) Add enough flour to form soft dough.
7) Turn the dough on a lightly floured board and knead for about 10 minutes or until satiny smooth.
8) Shape dough into a ball and place in a greased bowl.
9) Brush the dough lightly with butter. Cover and let rise for about 1 hour or until double in bulk.
10) Take a bowl and mix cinnamon, brown sugar and raisins in it. Set aside.
11) Punch the cough down and cover. Let rise for another 10 minutes.
12) Divide the dough into half.
13) Roll out each half to form a 12 by 9-inch rectangle.
14) Brush each rectangle with melted butter.
15) Sprinkle with half the cinnamon mixture.
16) Roll up the rectangles in jelly roll fashion.
17) Cut into 12 slices of 1 inch.
18) Take a 9 inch greased round baking pan and arrange the rolls in it.
19) Repeat with the remaining dough.
20) Brush the rolls with melted butter.
21) Cover and let rise for about 45 minutes or until double in bulk.
22) Bake in the oven for about 25 minutes.
23) Place on wire rack to cool completely.

SERVING
24) Serve with whipped cream and honey, if desired.