»

Recipes

»

Cookie

»

Raisin Crunchies
Raisin Crunchies Recipe
Raisin Crunchies are one of the quick and easy to prepare baking recipes. The raisins make it soft and chewy and the oats and coconut give it an unique taste. These crunchies go great with tea, coffee and even cakes for snacks.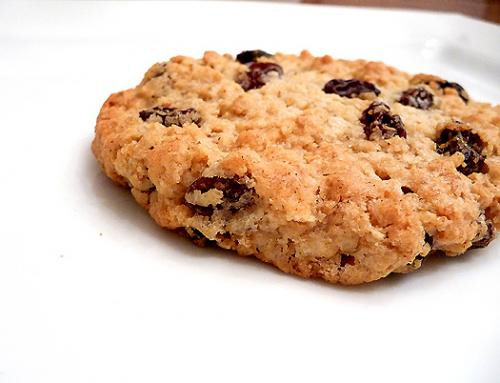 Ingredients
Shortening- l/2 cup

Sugar

1/2 Cup (16 tbs)

Egg

1

Orange rind

1 1/2 Tablespoon

, grated

All-purpose flour-1 cup, sifted

Baking powder

1 Teaspoon

Salt

1/2 Teaspoon

Quick-cooking oats -1/2cup

Coconut

1/2 Cup (16 tbs)

, shredded

Seedless raisins

3/4 Cup (16 tbs)
Directions
MAKING
1)In a bowl, beat together shortening and sugar until light and fluffy.
2)Add egg and orange rind and beat.
3)In another bowl, sift together flour, baking powder and salt.
4)Mix it with creamed mixture.
5)Add oats, coconut and raisins and stir.
6)Take a greased baking sheet and drop batter with teaspoon on it.
7)Bake at 375 degrees for 12 to 15 minutes.

SERVING
8)Serve the raisin crunchies when desired.