»

Recipes

»

Pie
Raisin Pie Recipe
Raisin Pie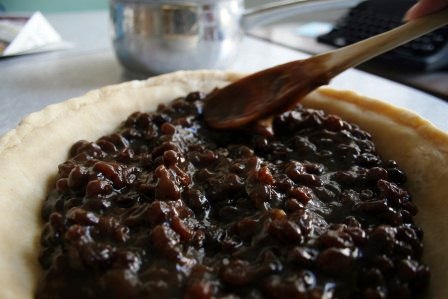 Ingredients
| | | |
| --- | --- | --- |
| | Raisins | 1 1⁄2 Cup (24 tbs) |
| | Flour | 1 Tablespoon |
| | Cornstarch | 1 Tablespoon |
| | Brown sugar | 1 Cup (16 tbs) |
| | Vanilla extract/Lemon juice | 1 Teaspoon |
Nutrition Facts
Serving size: Complete recipe
Calories 1683 Calories from Fat 12
% Daily Value*
Total Fat 1 g2.2%
Saturated Fat 0.18 g0.91%
Trans Fat 0 g
Cholesterol 0 mg
Sodium 31.8 mg1.3%
Total Carbohydrates 440 g146.5%
Dietary Fiber 10.5 g42.1%
Sugars 360.5 g
Protein 10 g19.8%
Vitamin A Vitamin C 10.3%
Calcium 13.8% Iron 32.5%
*Based on a 2000 Calorie diet
Directions
GETTING READY
1) Preheat the oven to 400°F.
2) In a saucepan, add raisins and enough water to cover them. Cook fo about 45 minutes.

MAKING
3) In a small bowl, mix flour, cornstarch and a few tablespoons of cold water. Mix till no lumps remain.
4) Add the cornstarch paste into the cooked raisins.
5) Next, stir in brown sugar and vanilla or lemon juice.
6) Pour into an unbaked pie shell and bake for 10 minutes.
7) Turn down the oven temperature to 350°F and continue baking for another 35 minutes.
8) Allow to cool down.

SERVING
9) Serve the raising pie chilled.