»

Recipes

»

Trout

»

Rainbow Trout In Parchment
Rainbow Trout In Parchment Recipe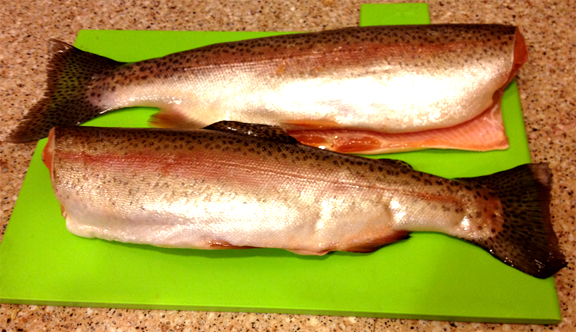 Ingredients
Chopped parsley

2 Tablespoon

Olive oil

1 Tablespoon

Minced garlic

1⁄2 Tablespoon

Minced orange peel

1⁄2 Tablespoon

Salt

1⁄8 Teaspoon

Black pepper

1⁄8 Teaspoon

Rainbow trout

2 Pound

, dressed (Clear Springs)
Nutrition Facts
Serving size: Complete recipe
Calories 1506 Calories from Fat 676
% Daily Value*
Total Fat 75 g115.8%
Saturated Fat 12.5 g62.7%
Trans Fat 0 g
Cholesterol 526.2 mg
Sodium 732.8 mg30.5%
Total Carbohydrates 7 g2.2%
Dietary Fiber 2.1 g8.4%
Sugars 0.3 g
Protein 190 g379.9%
Vitamin A 61.6% Vitamin C 95.2%
Calcium 46% Iron 88.5%
*Based on a 2000 Calorie diet
Directions
1. Preheat oven to 375°F. Combine parsley, olive oil, garlic, orange peel, salt and pepper in a small bowl.
2. Fold each piece of parchment in half. Open and place each trout, skin side down, with the back close to the fold. Evenly spread 2 teaspoons of filling on the flesh side of the bottom half of trout. Fold trout dosed. Bring top half of parchment over trout and fold edges together to form a tight seal.
3. Place parchment packages on a baking sheet; bake for 12-15 minutes.