»

Recipes

»

French

»

Ragout Fin
Ragout Fin Recipe
Ragout Fin has a supreme taste. Ragout Fin gets its taste from Veal tongue, mixed with flour and mushrooms, flavored with lemon juice. Ragout Fin is inspired by many restaurants across the world.
Ragout fin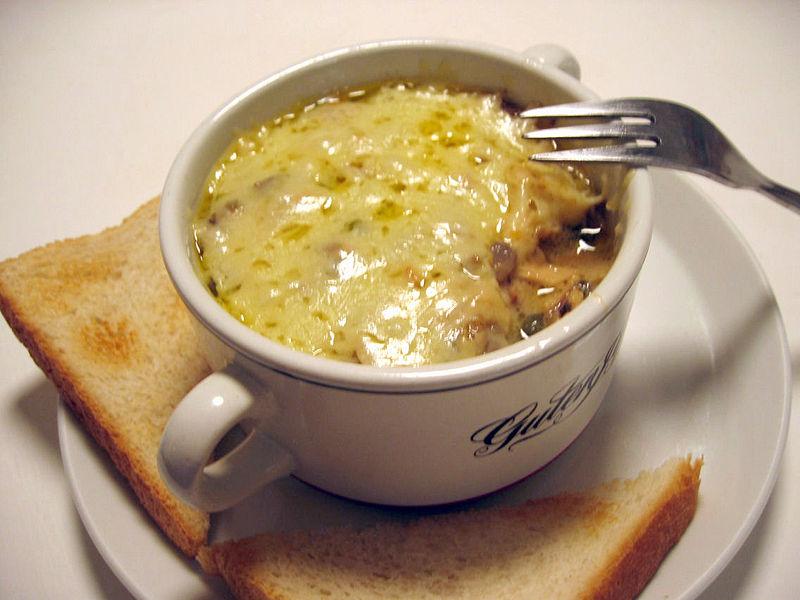 Ingredients
Veal tongue

1 Small

Veal sweetbread

1

Lemon juice

1 Tablespoon

Butter

2 Ounce

Flour

2 Ounce

Egg yolks

2

, slightly beaten

Anchovy fillet

1

, chopped

Capers

1 Teaspoon

Canned mushrooms

4 Ounce

, drained and chopped (1 Can)
Nutrition Facts
Serving size: Complete recipe
Calories 1127 Calories from Fat 625
% Daily Value*
Total Fat 70 g108.3%
Saturated Fat 38.5 g192.4%
Trans Fat 0 g
Cholesterol 669.4 mg
Sodium 829.1 mg34.5%
Total Carbohydrates 54 g18%
Dietary Fiber 1.6 g6.4%
Sugars 0.7 g
Protein 65 g130.7%
Vitamin A 37.1% Vitamin C 33%
Calcium 11.8% Iron 57.8%
*Based on a 2000 Calorie diet
Directions
Cover tongue and soup greens with salted water in a kettle.
Cook, covered, until tongue is tender.
Let cool in the broth, then remove skin from tongue.
Remove membrane from sweetbread and simmer in enough salted water to cover (lemon juice added) until tender.
Cut sweetbread and tongue into cubes.
Melt butter in a skillet; stir in flour.
Cook and stir until flour is lightly browned.
Blend in 3 cups (3/4 liter or 1 1/2 pints) broth or bouillon and bring to boiling, stirring constantly until sauce is thickened.
Blend egg yolks into sauce.
Add anchovy fillet, capers, mushrooms and meat.