»

Recipes

»

Rabbit

»

Rabbit In The Oven
Rabbit In The Oven Recipe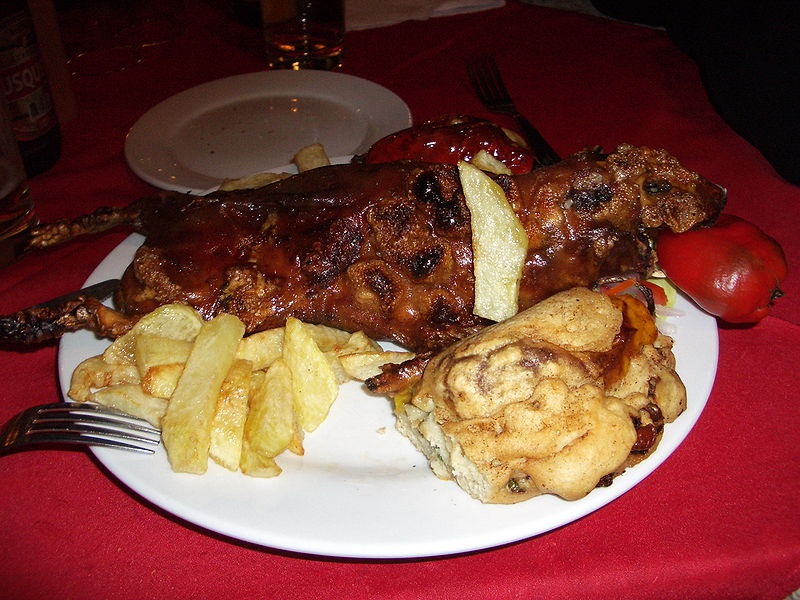 Ingredients
| | | |
| --- | --- | --- |
| | Young rabbit | 1 |
| | Fat and lean green bacon/Mildly cured | 1 |
| | Onion | 1 |
| | White wine | 2 Cup (32 tbs) |
Nutrition Facts
Serving size
Calories 696 Calories from Fat 108
% Daily Value*
Total Fat 12 g18.3%
Saturated Fat 3.5 g17.7%
Trans Fat 0 g
Cholesterol 414.4 mg
Sodium 275.1 mg11.5%
Total Carbohydrates 6 g2.1%
Dietary Fiber 0.58 g2.3%
Sugars 2.6 g
Protein 112 g224%
Vitamin A 0.01% Vitamin C 4.2%
Calcium 8% Iron 92.9%
*Based on a 2000 Calorie diet
Directions
Remove the head of the rabbit.
Stick the carcass all over with small pieces of fat bacon best applied by making small incisions with the point of a knife.
Put it into a fireproof dish, with some diced lean bacon, sliced onion, mixed herbs, salt, pepper and a large glass of white wine mixed with the same quantity of water.
Cover the dish, and put it in a moderate oven for 2 hours, basting frequently.
When ready to serve, the gravy should be reduced to a sort of syrupy consistency.
Strain it, and pour it over the rabbit.
Image Courtesy :
http://en.wikipedia.org/wiki/File:Peru_Guinea_Pig.jpg