»

Recipes

»

Jam

»

Quickly Made Strawberry Jam
Quickly Made Strawberry Jam Recipe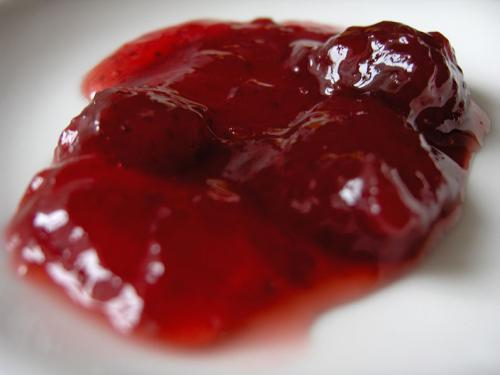 Summary
Preparation Time
10 Min
Cooking Time
10 Min
Ready In
20 Min
Difficulty Level
Easy
Ingredients
Strawberries

2 1/4 Pound

Lemon juice

3 Tablespoon

Sugar

3 Pound

Knob butter or margarine- as required

Commercial pectin- 1/2 bottle
Directions
GETTING READY
1. Start by removing the stocks from the fruit, then crushing it

MAKING
2. In a pan, place the fruit, then add sugar and lemon juice, and keep heating until the sugar dissolves, keep stirring occasionally
3. Boil quickly and continually for 2 minutes, keep stirring occasionally, then add butter or margarine to the pan
4. Once the mixture has boiled completely, remove the mixture from the heat and stir it in the pectin, skim if necessary
5. Let the jam cool, this is done to prevent the fruit from sinking
6. Now transfer the jam into a sterilized jar and seal as for preserves.
7. Seal and store in a cool place and use as required

SERVING
8. Serve with muffins, bagels, scones, or toast. You can use it as a filling in pies, or eat it with pancakes.