»

Recipes

»

Berries

»

Quick And Easy Relishes Walnut Cranberry Relish
Quick and Easy Relishes Walnut Cranberry Relish Recipe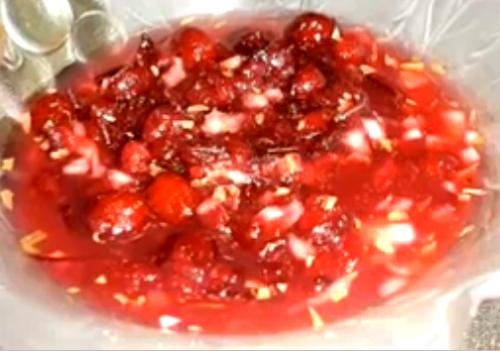 Ingredients
Cranberries

1 Pound

Sugar

1 1⁄2 Cup (24 tbs)

Walnuts

1 Cup (16 tbs)

, chopped

Orange marmalade

1 Cup (16 tbs)

Lemon juice/Lime juice

3 Tablespoon
Nutrition Facts
Serving size
Calories 287 Calories from Fat 55
% Daily Value*
Total Fat 7 g10.1%
Saturated Fat 0.62 g3.1%
Trans Fat 0 g
Cholesterol 0 mg
Sodium 20.1 mg0.8%
Total Carbohydrates 60 g19.9%
Dietary Fiber 3 g12%
Sugars 52.5 g
Protein 2 g3.6%
Vitamin A 1% Vitamin C 16.4%
Calcium 2.7% Iron 2.6%
*Based on a 2000 Calorie diet
Directions
GETTING READY
1. Preheat oven to 350F.
2. Wash cranberries and drain.

MAKING
3. Place in shallow baking pan with sugar and mix well.
4. Cover pan with foil and bake for 1 hour.
5. In a shallow baking pan spread nuts.
6. Place in oven with cranberries, about 10 minutes until lightly toasted.
7. In medium bowl mix well combining baked cranberries, toasted nuts, marmalade and lemon juice.
8. Refrigerate, covered, until well chilled—at least 6 hours.

SERVING
9. Use as side or with dishes as desired.