»

Recipes

»

Puny's Cornbread
Puny's Cornbread Recipe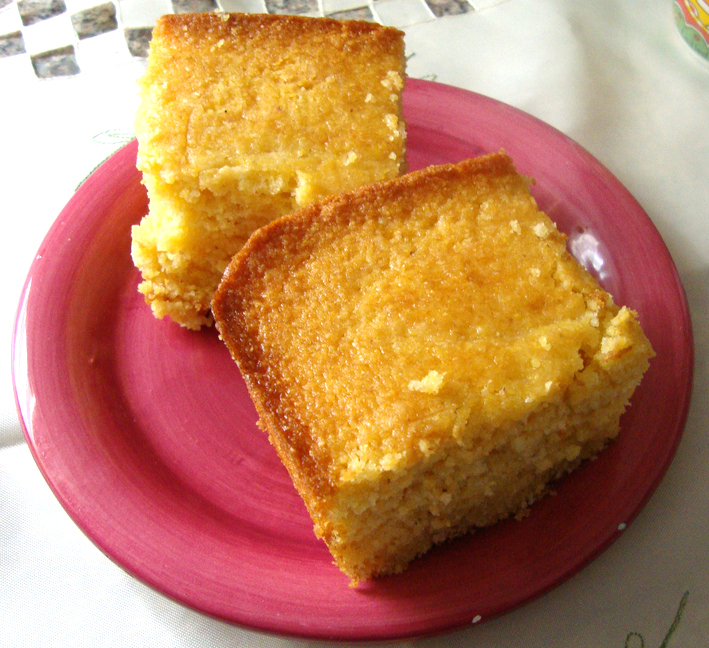 Ingredients
Vegetable oil

1⁄4 Cup (4 tbs)

Eggs

3 Large

, lightly beaten

Canned creamed corn

1 1⁄2 Cup (24 tbs)

Sour cream

1 1⁄2 Cup (24 tbs)

Self rising cornmeal

1 Cup (16 tbs)

Self rising flour

1⁄2 Cup (8 tbs)

Salt

3⁄4 Teaspoon

Baking powder

1⁄2 Teaspoon

Sugar

1 Tablespoon
Nutrition Facts
Serving size: Complete recipe
Calories 2404 Calories from Fat 1237
% Daily Value*
Total Fat 140 g215.7%
Saturated Fat 51.8 g259%
Trans Fat 0 g
Cholesterol 813.8 mg
Sodium 6013.5 mg250.6%
Total Carbohydrates 239 g79.7%
Dietary Fiber 20.6 g82.2%
Sugars 42.5 g
Protein 47 g93.4%
Vitamin A 59.8% Vitamin C 5.2%
Calcium 121.7% Iron 65.4%
*Based on a 2000 Calorie diet
Directions
Preheat the oven to 425°F.
Pour the oil into a 9-inch black iron skillet and place it in the oven to heat for 5 minutes.
In a large bowl, mix together the eggs, creamed corn, and sour cream.
In a separate bowl, mix together the cornmeal, flour, salt, baking powder, and sugar.
Add the wet ingredients to the dry and mix well.
Remove the skillet from the oven and stir in the hot oil to the batter.
Immediately pour the batter into the skillet.
Place the skillet back into the oven, turn the temperature down to 375°F, and bake for 35 to 40 minutes, or until the top of the cornbread is browned.
Remove from the oven and immediately flip the cornbread out onto a plate to serve.
Image Courtesy :
http://www.flickr.com/photos/princesspumpernickel/5119666733/