»

Recipes

»

French

»

Souffle

»

Pumpkin Dessert Souffle
Pumpkin Dessert Souffle Recipe
Pumpkin Souffle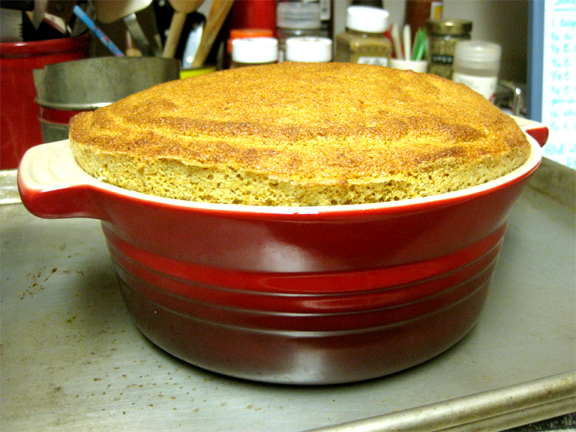 Ingredients
Evaporated milk

1 Cup (16 tbs)

Brown sugar

3⁄4 Cup (12 tbs)

Unflavored gelatin

2 Ounce

(2 Envelopes)

Salt

1⁄4 Teaspoon

Canned pumpkin

1 1⁄2 Cup (24 tbs)

Egg yolks

3

, slightly beaten

Ground cinnamon

1⁄2 Teaspoon

Ground nutmeg

1⁄2 Teaspoon

Ground ginger

1⁄4 Teaspoon

Egg whites

3

Granulated sugar

1⁄2 Cup (8 tbs)
Nutrition Facts
Serving size: Complete recipe
Calories 1815 Calories from Fat 296
% Daily Value*
Total Fat 34 g51.6%
Saturated Fat 17.3 g86.5%
Trans Fat 0 g
Cholesterol 629.5 mg
Sodium 1052.4 mg43.8%
Total Carbohydrates 312 g103.9%
Dietary Fiber 12.7 g50.6%
Sugars 289.4 g
Protein 87 g174%
Vitamin A 1169.2% Vitamin C 34.3%
Calcium 89.1% Iron 44.2%
*Based on a 2000 Calorie diet
Directions
Pour evaporated milk into freezer tray; freeze till soft ice crystals form around edges.
Meanwhile, in saucepan combine brown sugar, gelatin, and salt.
Stir in 1 1/4 cups cold water, pumpkin, egg yolks, and spices.
Cook and stir over low heat till thickened and bubbly.
Remove from heat; chill till partially set.
Beat egg whites to soft peaks.
Slowly add granulated sugar, beating to stiff peaks.
Fold into pumpkin.
Whip icy milk till stiff; fold in.
Turn into a 2-quart souffle dish; chill till firm.