»

Recipes

»

Caramel

»

Pumpkin Creme Caramel
Pumpkin Creme Caramel Recipe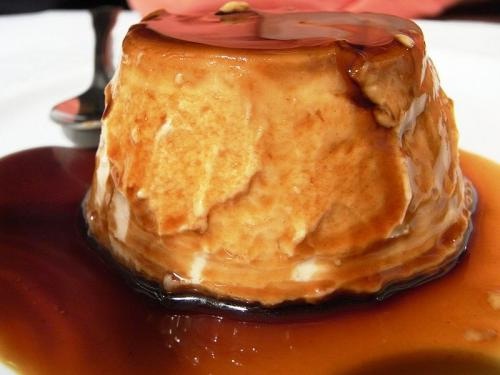 Ingredients
Pumpkins

2 Small

Sugar

1 Cup (16 tbs)

Water

1⁄4 Cup (4 tbs)

Milk

2 Cup (32 tbs)

Whole eggs

2

Ground cinnamon

1⁄2 Teaspoon

Nutmeg

To Taste

, freshly grated

Vanilla extract

1 Teaspoon

Dark rum

2 Tablespoon

Boiling water

1 Cup (16 tbs)
Nutrition Facts
Serving size: Complete recipe
Calories 2333 Calories from Fat 258
% Daily Value*
Total Fat 29 g44.7%
Saturated Fat 13.9 g69.4%
Trans Fat 0 g
Cholesterol 468.2 mg
Sodium 373.9 mg15.6%
Total Carbohydrates 488 g162.5%
Dietary Fiber 21.5 g86.1%
Sugars 279.7 g
Protein 67 g134.6%
Vitamin A 5927.2% Vitamin C 600.2%
Calcium 144% Iron 190.2%
*Based on a 2000 Calorie diet
Directions
GETTING READY
1. Preheat oven to 350°F.
2. Place pumpkin on baking sheet, bake for half an hour and allow to cool. Halve the pumpkin and deseed. Remove the peel and make chunks of the flesh.
3. Pass the pumpkin puree though a food processor to prepare 1 cup smooth

MAKING
4. Place a heavy saucepan on medium to high heat, add ¾ cup sugar and water and bring the mixture to boil and allow the sugar to start caramelizing.
5. As the mixture turns golden brown. Take off from heat and transfer to a 1 ½ quart soufflé dish. Rotate the dish for even coating on the dish bottom. Allow to cool.
6. Scald milk in a saucepan and allow to cool a little.
7. Take a bowl, add egg yolks, whole eggs, cinnamon, 3 tbsp sugar, nutmeg, ginger, rum and vanilla, whisk well. Using a sieve, slowly add in milk, whisking continuously, to the mixture. Mix pumpkin puree and beat well.
8. Transfer the mixture to soufflé dish. Place in a roasting pan. Add boiling water to the pan sufficient to come till half of the dish sides. Bake for 45 minutes to allow a knife inserted to come out clean.
9. Allow to cool thoroughly.
10. Using a knife, loosen the edges, place onto a serving platter upside down. Hold the platter and dish together and remove the soufflé dish.

SERVING
11. Serve warm.