»

Recipes

»

Prune

»

Prunes
Prunes Recipe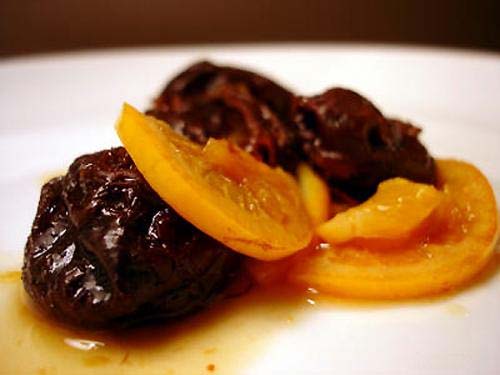 Summary
Cooking Time
20 Min
Difficulty Level
Easy
Health Index
Average
Servings
2
Ingredients
Prunes

4 Ounce

Brewed tea

1 Cup (16 tbs)

Lemon peel

1 Teaspoon (Leveled)

(Use Little)

Brown sugar

1 Tablespoon
Nutrition Facts
Serving size
Calories 166 Calories from Fat 2
% Daily Value*
Total Fat 0.22 g0.34%
Saturated Fat 0.05 g0.25%
Trans Fat 0 g
Cholesterol 0 mg
Sodium 4.8 mg0.2%
Total Carbohydrates 44 g14.8%
Dietary Fiber 4.2 g16.7%
Sugars 29.2 g
Protein 1 g2.5%
Vitamin A 8.9% Vitamin C 3.8%
Calcium 2.6% Iron 3.1%
*Based on a 2000 Calorie diet
Directions
GETTING READY
1) In a basin, place the prunes and cover them with tea. There is no requirements for a new pot. The pot containing the used leaves should simply be refilled with hot water. Allow to stand for some minutes and then strain over the prunes.
2) Allow to stand and soak overnight.

MAKING
3) When ready to prepare, place the liquid as well as the prunes in a saucepan and add a small piece of lemon peel. Gently cook over low flame till the peel has tendered.
4) Take out the peel and stir in the sugar right before serving.

SERVING
5) Serve hot or cold.