»

Recipes

»

Filling

»

Prune-Orange Filling
Prune-Orange Filling Recipe
My mom always stocked up on spreads and mixes for anytime-use. Here is the recipe for one of my favorites...Prune-Orange Filling. A super easy recipe that results in a mix which can be used in several ways!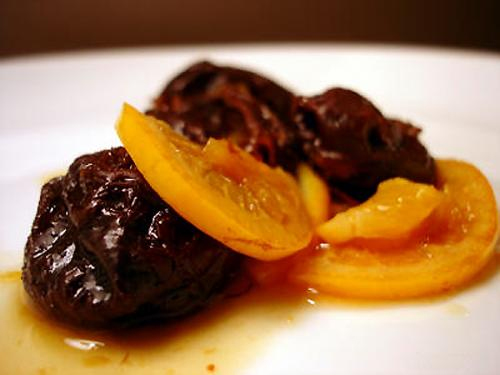 Ingredients
Cooked prune

3 Cup (48 tbs)

, cut and pitted

Sugar

1⁄2 Cup (8 tbs)

Orange juice

1⁄2 Cup (8 tbs)

Orange rind

2 Tablespoon

, grated

Lemon juice

2 Tablespoon
Nutrition Facts
Serving size: Complete recipe
Calories 1732 Calories from Fat 19
% Daily Value*
Total Fat 2 g3.5%
Saturated Fat 0.5 g2.5%
Trans Fat 0 g
Cholesterol 0 mg
Sodium 12.9 mg0.5%
Total Carbohydrates 456 g152.1%
Dietary Fiber 40.6 g162.4%
Sugars 310.1 g
Protein 13 g25.6%
Vitamin A 89.1% Vitamin C 199.6%
Calcium 29% Iron 29.8%
*Based on a 2000 Calorie diet
Directions
MAKING
1) In a saucepan, combine all the ingredients.
2) Place over gentle heat and cook while stirring constantly.
3) Allow mix to thicken and cook for another 5 minutes.
4) Cool.

SERVING
5) Use as a filling, or serve with toast or crackers.