»

Recipes

»

Fritter

»

Prune Fritters
Prune Fritters Recipe
Prune Fritters can be a healthy food for the kids. Kids often dislike eating fruits and food in general, they like fried and junk food. These fried prune fritters fit the bill well. Serve them with hot sauce or sprinkle sugar and cinnamon on them.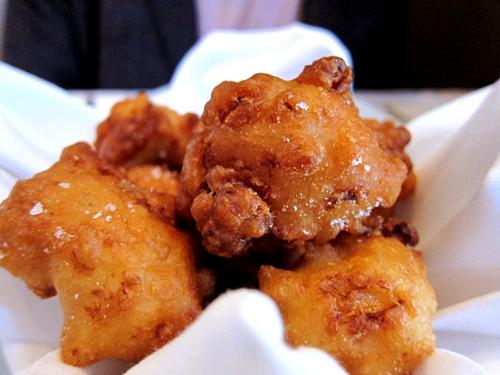 Ingredients
All-purpose flour-1 cup, sifted

Baking powder

1 1/2 Teaspoon

Salt

1/4 Teaspoon

Confectioner's sugar

3 Tablespoon

Milk

1/3 Cup (16 tbs)

Egg

1

Plumped prunes-1 cup, chopped

Lemon juice

2 Tablespoon

Fat-for frying
Directions
MAKING
1)In a bowl, sift together flour, baking powder, salt and confectioners' sugar.
2)Slowly add milk and beat until smooth.
3)Add egg, prunes and lemon juice. Mix well.
4)Take a pan and heat fat, drop batter into it and fry for 3 to 5 minutes, or until delicate brown. Drain on absorbent paper.

SERVING
5)Serve the prune fritter with lemon sauce or maple syrup or roll in a mixture of confectioners' sugar and cinnamon.