»

Recipes

»

Pie

»

Prize Winning Lemon Meringue Pie
Prize Winning Lemon Meringue Pie Recipe
This deliciously rich Prize-Winning Lemon Meringue Pie , is great to serve for any occasion. One of the most popular desserts ever, this Prize-Winning Lemon Meringue Pie will not only impress your guests, but will entertain you as well!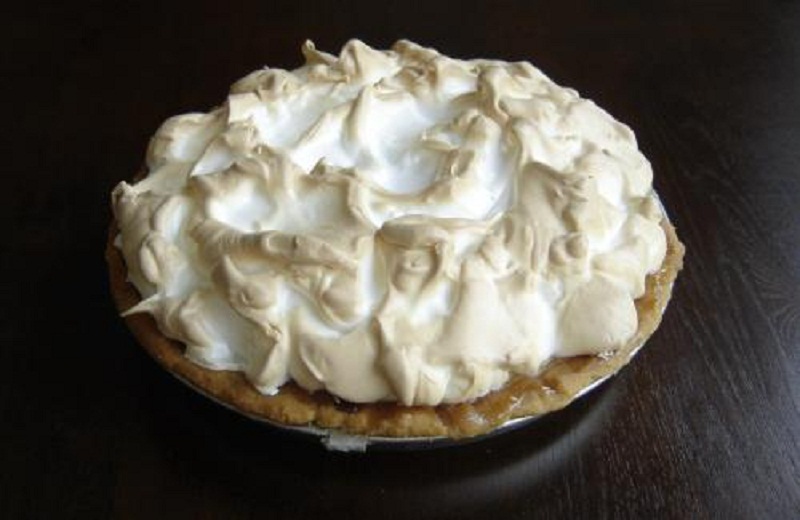 Ingredients
One 9-inch baked pie shell

Cornstarch

7 Tablespoon

Sugar

1 1/3 Cup (16 tbs)

Salt

1/4 Teaspoon

Hot water

1 1/2 Cup (16 tbs)

Egg yolks

3

, beaten

Lemon juice

1/2 Cup (16 tbs)

1 teaspoon grated lemon rind

Butter/Margarine

2 Tablespoon
Directions
Mix cornstarch, sugar and salt in a saucepan.
Stir in hot water gradually and bring to a boil over direct heat.
Cook for 8 to 10 minutes over medium heat, stirring constantly until thick and clear.
Remove from the heat.
Stir several spoonfuls of this hot mixture into the beaten egg yolks.
Mix well.
Pour egg yolks back into the saucepan.
Bring to a boil then reduce heat and cook slowly for 4 to 5 minutes, stirring constantly.
Remove from heat and gradually add lemon juice, rind and butter.
Cool thoroughly, then pour into the cooled baked pie shell.
Top with meringue: put the 3 egg whites (at room temperature) in a deep medium sized bowl.
Add 1 tablespoon lemon juice.
Beat until whites stand in soft peaks.
Add 6 tablespoons sugar gradually, beating well after each addition.
Beat until egg whites stand in firm glossy peaks.
Spread over cooled filling, starting at the edges and working toward the center of the pie, attaching meringue securely to the edges of the crust.
Bake at 350° F.
for 15 to 20 minutes.
Cool but do not refrigerate before serving.