»

Recipes

»

Chicken

»

Prize Lemon Broiled Chicken
Prize Lemon Broiled Chicken Recipe
You'll simply love this Prize Lemon Broiled Chicken recipe. Try for once, I bet, you would love to prepare this Prize Lemon Broiled Chicken recipe again and again.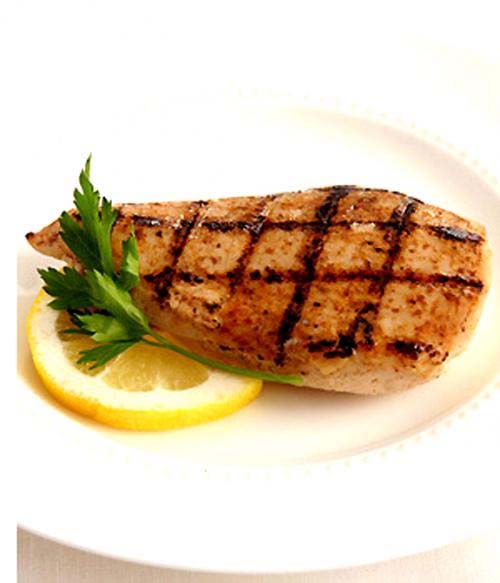 Ingredients
Broiler fryer chicken

2 Pound

, cut in halves

Freshly ground black pepper

1⁄2 Teaspoon

Lemon

1 Large

Paprika

1⁄2 Teaspoon

Margarine

1⁄2 Cup (8 tbs)

, melted

Sugar

2 Tablespoon

Salt

2 Teaspoon
Nutrition Facts
Serving size: Complete recipe
Calories 2871 Calories from Fat 2012
% Daily Value*
Total Fat 224 g345.1%
Saturated Fat 54.6 g273.2%
Trans Fat 0 g
Cholesterol 680.4 mg226.8%
Sodium 4545.6 mg189.4%
Total Carbohydrates 43 g14.3%
Dietary Fiber 5.5 g22.2%
Sugars 30.2 g
Protein 171 g341.3%
Vitamin A 130% Vitamin C 136%
Calcium 17.2% Iron 56.1%
*Based on a 2000 Calorie diet
Directions
Rinse chicken, then rub dry.
Carefully rub chicken inside and out with lemon quarters to release all the juice; brush with melted margarine.
Mix together salt, pepper, paprika and sugar; sprinkle over chickens.
Place skin side down in broiler pan and place very low down in broiler.
After 30 minutes turn chickens, baste with more of the sauce, and raise closer to heat.
Baste and watch for even browning.
Takes 20 to 30 minutes longer, until juices run clear when meat is cut to the bone.