»

Recipes

»

Seafood

»

Prawns Curry
Prawns Curry Recipe
My friends love this Prawns Curry Recipe. I try this Prawns Curry recipe whenever friends visit my home. Prawns Curry is a very delicious Indian curry. It is generally eaten during Christmas. It is included as a main dish in Indian lunch and dinner menu. Cook, share and enjoy this Prawns Curry recipe.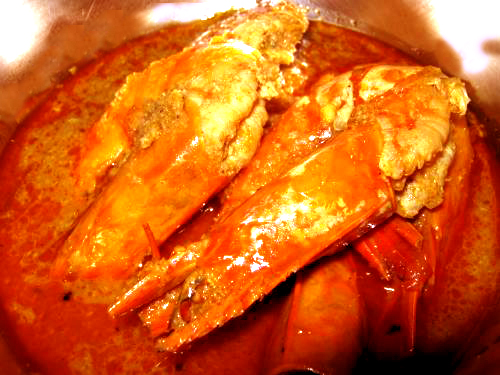 Ingredients
Prawns

1/2 Kilogram

Coconut

1 Cup (16 tbs)

, grated

Onion

1

Red chillies

5

Green chilli

1

Coriander seeds 1 tea spn

Dried kokum 2 pieces or tamarind extract 1/4th tea spn

Oil 2 tea spns

Salt

To Taste
Directions
Heat oil and fry coriander seeds. Grind with coconut and red chillies to a very smooth paste.
Heat oil and fry chopped onions till they turn slightly brownish. Add prawns and fry for some time(till the prawns become white in color, this enhances the taste of the curry).
Add the ground masala, green chilli(slitted) and kokum/tamarind(In the traditional recipe kokum is used, since I was not having that I used tamarind extract). Add salt and sufficient water. Cook until completely done.
Serve hot with rice.

Abygail says :
I wonder how this prawns curry tastes, cause me being a goan I can tell that this is not the authentic way as there are many ingredients missing.
Posted on:
4 May 2008 - 12:51am

delicious recipe....this prawns curry is very popular in Goa. During christmas prawn curry cooked in almost every Goan homes. Goan people likes this prawns curry very much.
Posted on:
7 January 2008 - 9:50am

Abygail says :
During and on Christmas day goans normally cook meat dishes. You would very rarely find prawns curry cooked on Christmas day. Seafood & rice is part of the staple diet so to make prawns curry there is no special reason/occasion required.
Posted on:
4 May 2008 - 12:56am