»

Recipes

»

Toast

»

PRAWN ON TOAST
PRAWN ON TOAST Recipe
A yummy snack fit for all occasions. This prawn on toast recipe is deep fried toast topped with prawn and sesame seed. A delicious appetizer you really would not where and how they disappeared. A sure hit prawn on toast is a wonderful choice for your party menu.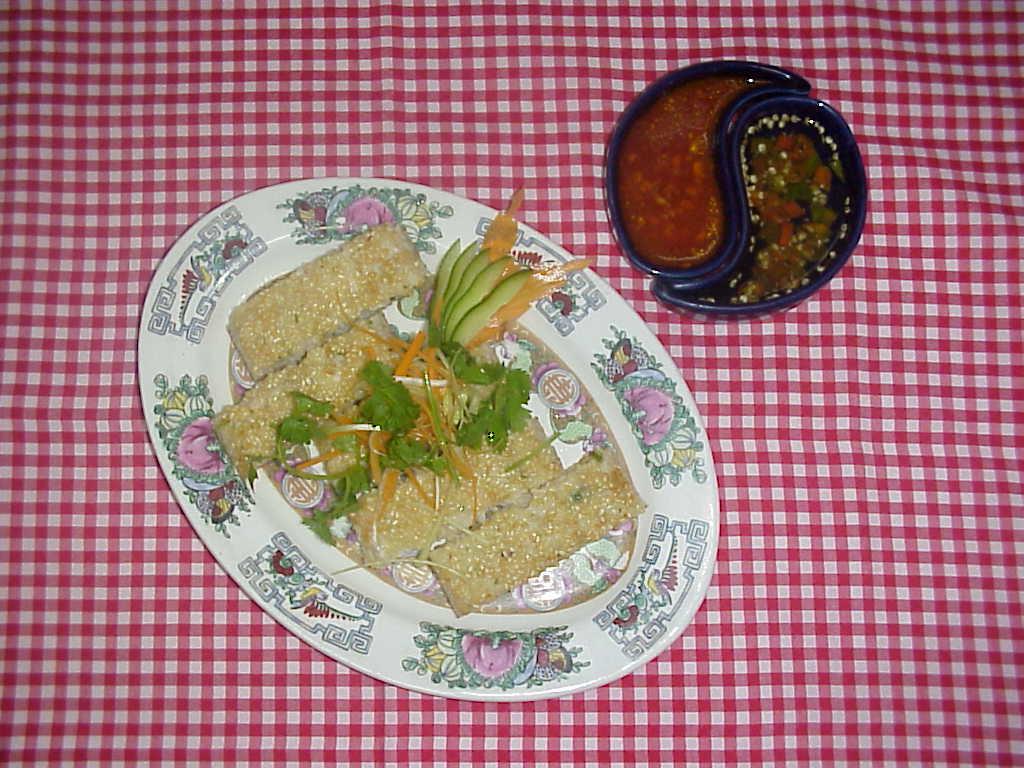 Ingredients
Prawn

250 Gram

(c grade)

Eggs

1

Bread slice

4

Sesame seeds

25 Gram

Salt

5 Gram

Whie pepper

2 Gram

Aromat powder

4 Gram

Oil

200 Milliliter

(to fry)
Nutrition Facts
Serving size
Calories 605 Calories from Fat 489
% Daily Value*
Total Fat 55 g85.4%
Saturated Fat 7.7 g38.4%
Trans Fat 0 g
Cholesterol 155.4 mg
Sodium 839 mg35%
Total Carbohydrates 14 g4.8%
Dietary Fiber 1.5 g6.2%
Sugars 0.4 g
Protein 14 g28.9%
Vitamin A 1.2% Vitamin C 0.23%
Calcium 8.9% Iron 10.8%
*Based on a 2000 Calorie diet
Directions
De-shell and de-vein the prawns, and chop them.
Mix with salt, white pepper,arpmate pwd, egg, and little sesame seeds.
Apply the mixture on to the bread, and sprinkle on top with sesame seeds.
Deep fry in hot oil, trim the sides and serve.