»

Recipes

»

Rice

»

Prawn Fried Rice
Prawn Fried Rice Recipe
Are you looking for simple way to make Prawn Fried Rice? This Prawn Fried Rice recipe is perfect for you. Prawn Fried Rice is a delicious seafood dish. It is included as a main dish in Indian lunch and dinner menu. It goes well with any Indian Curry. You should try this Prawn Fried Rice recipe.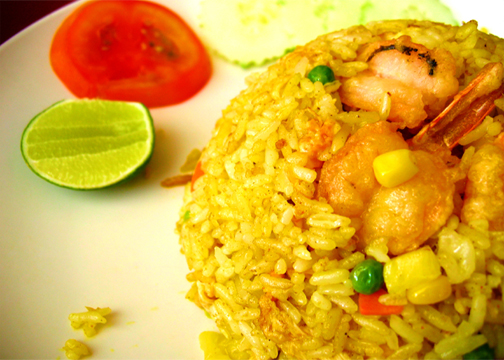 Ingredients
Basmati rice

2 Cup (32 tbs)

Grated ginger

1 Teaspoon

Prawn

8 Ounce

(About 30 Numbers)

Carrot

1 Medium

French bean

8

Green chili

2

Onion

1 Small

Salt

To Taste

Ajinomoto

1 Pinch

Water

4 Cup (64 tbs)

Cooking oil

4 Tablespoon

Soy sauce

1 Teaspoon
Directions
1. Use uncooked frozen shrimp without tail and head. Chop French beans. Peel and cut carrot into 1.5 inch long thin strips. Chop onion and green chili finely.

2. Wash and soak rice in four cups of water for one hour.

3. Cook rice till almost done but not fully.

4. Heat oil and fry onion, grated ginger and green chili lightly. Add carrot and beans and cook for three minutes.

5. Add shrimp and cook for two minutes, add cooked rice and salt. Fry for fifteen minutes with stirring. Add Soya sauce and ajinomoto. Mix well. Serve hot.

robert davidson says :
can you send me the recipe of fried rice please
Posted on:
14 January 2012 - 5:46am
Hi Robert, what kind of fried rice recipe are you looking for? any particular preference. Fried rice is a very versatile dish and you can combine any veggies and meats to your liking. Here is the link to various fried rice recipes that might interest you. http://www.ifood.tv/search/apachesolr_search/fried%20rice?filters=type:recipe
Posted on:
16 January 2012 - 5:35am

delicious recipe ....this dish is also very popular in Goa. with prawns curry it goes very well.
Posted on:
8 January 2008 - 1:07pm