»

Recipes

»

Praline

»

Pralines
Pralines Recipe
Easy Pralines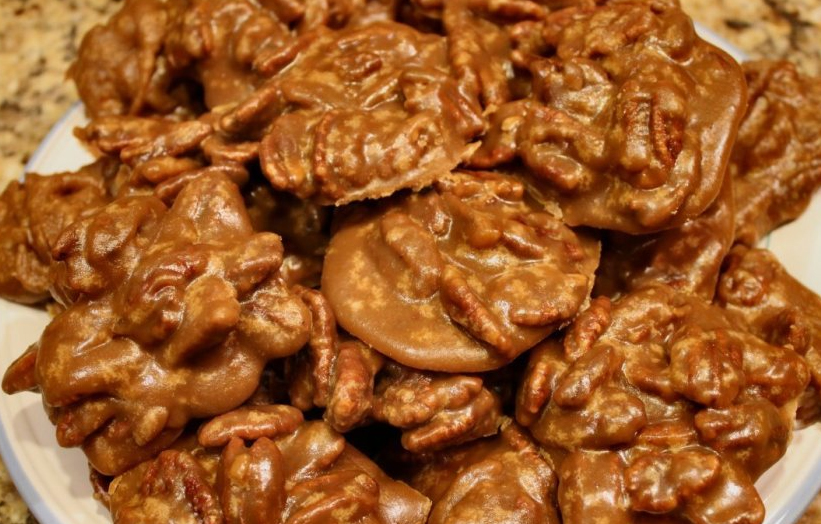 Ingredients
| | | |
| --- | --- | --- |
| | Honey | 1⁄2 Cup (8 tbs) |
| | Buttermilk | 1⁄2 Cup (8 tbs) |
| | Soda | 1⁄2 Teaspoon |
| | Salt | 1 Dash |
| | Butter | 1 Tablespoon |
| | Pecan pieces | 3⁄4 Cup (12 tbs) |
Nutrition Facts
Serving size: Complete recipe
Calories 1205 Calories from Fat 630
% Daily Value*
Total Fat 75 g114.7%
Saturated Fat 13 g64.9%
Trans Fat 0 g
Cholesterol 32.3 mg
Sodium 813 mg33.9%
Total Carbohydrates 141 g46.9%
Dietary Fiber 8.5 g34%
Sugars 126.6 g
Protein 13 g25.9%
Vitamin A 8.5% Vitamin C 2.8%
Calcium 7.3% Iron 15.5%
*Based on a 2000 Calorie diet
Directions
In a saucepan, mix honey, buttermilk, soda, and salt.
Cook over high heat for 5 minutes.
Add butter and continue to cook, frequently stirring until mixture forms a soft ball when dropped into cold water or reaches 234° F. (see Basic Procedure for Testing Candy).
Remove from heat and cool for 5 minutes.
Beat with electric beater until creamy.
Add nuts.
Immediately drop by the tablespoonful onto buttered wax paper.
For storing, wrap each praline in plastic wrap.