»

Recipes

»

Praline

»

Pralines
Pralines Recipe
Pralines is an easy to prepare dessert. The delicious Pralines wont let you to miss out to prepare this recipe for your guests.
Easy Pralines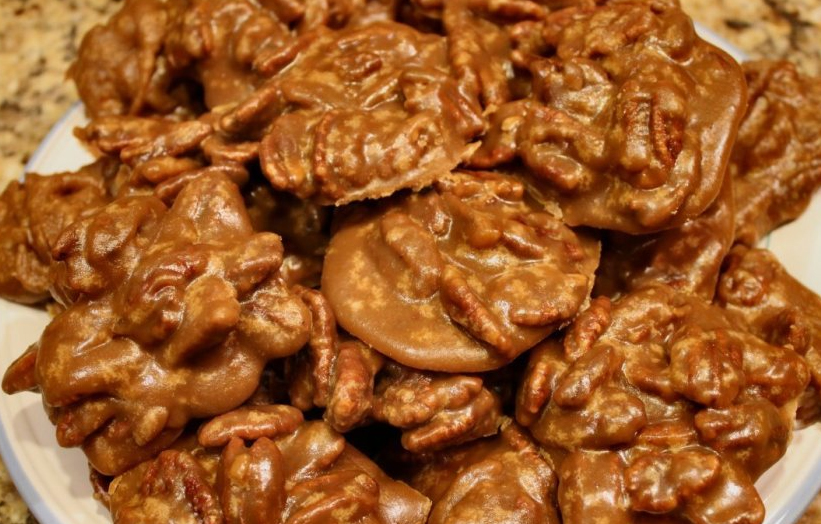 Ingredients
Pecan meats

1 1⁄2 Cup (24 tbs)

, coarsely chopped

Sugar

1 1⁄2 Cup (24 tbs)

Light cream

1 Cup (16 tbs)

Butter

1 Tablespoon

Light molasses

1⁄3 Cup (5.33 tbs)

(New Orleans)

Nutmeg

1 Dash
Nutrition Facts
Serving size: Complete recipe
Calories 3478 Calories from Fat 1791
% Daily Value*
Total Fat 210 g322.5%
Saturated Fat 64.8 g323.9%
Trans Fat 0 g
Cholesterol 298.7 mg
Sodium 124.9 mg5.2%
Total Carbohydrates 415 g138.4%
Dietary Fiber 16.5 g65.9%
Sugars 369.2 g
Protein 21 g42.1%
Vitamin A 58% Vitamin C 5.6%
Calcium 52.3% Iron 54.1%
*Based on a 2000 Calorie diet
Directions
1. Combine the sugar, molasses, cream, butter and nutmeg in a two-quart saucepan. Bring to a boil and continue to boil over medium heat, stirring occasionally, to 240° F. (mixture forms a firm ball in cold water), thirty-five to forty minutes.
2. Remove from heat and let stand three minutes. Add the nuts and drop the mixture from a teaspoon onto waxed paper or foil.