»

Recipes

»

Praline

»

Praline Ice-Cream Puffs
Praline Ice-Cream Puffs Recipe
Here's a great do-ahead dessert that's sure to please the kids as well as the adults!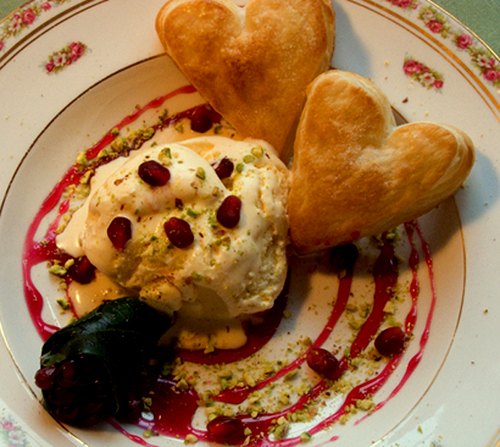 Ingredients
Water

1 Cup (16 tbs)

Butter/Margarine

1⁄2 Cup (8 tbs)

All purpose flour

1 Cup (16 tbs)

Eggs

4

Vanilla ice cream

3 Pint

(12 Scoops)

Caramel topping

12 1⁄2 Ounce

Chopped pecans

1 Cup (16 tbs)
Nutrition Facts
Serving size
Calories 522 Calories from Fat 259
% Daily Value*
Total Fat 29 g45.2%
Saturated Fat 14.1 g70.4%
Trans Fat 0 g
Cholesterol 143.4 mg
Sodium 220.8 mg9.2%
Total Carbohydrates 57 g19%
Dietary Fiber 2 g8.1%
Sugars 43.2 g
Protein 8 g16.6%
Vitamin A 16.5% Vitamin C 1.4%
Calcium 18.7% Iron 6.3%
*Based on a 2000 Calorie diet
Directions
1. Heat oven to 400ºF.
2. Heat water and butter to rolling boil in 2 1/2-quart saucepan. Stir in flour; reduce heat to low. Stir vigorously about 1 minute or until mixture forms a ball; remove from heat. Beat in eggs, all at once; continute beating until smooth. Drop dough by scant 1/4 cupfuls about 3 inches apart onto ungreased cookie sheet.
3. Bake 35 to 40 minutes or until puffed and golden. Cool away from draft, about 30 minutes. Cut off top third of each puff and pull out any strands of soft dough.
4. Fill puffs with ice cream; replace tops. Cover and freeze until serving. Drizzle with caramel topping. Sprinkle with pecans. Store covered in freezer.