»

Recipes

»

Indian

»

Paratha

»

Potato Parathas
Potato Parathas Recipe
These Potato Parathas are my breakfast favorite ! Savor them up at breakfast with a bowl of curds ! Eat them with some savory tomato relishes too ! Just try out these Potato Parathas and let me know if you like them !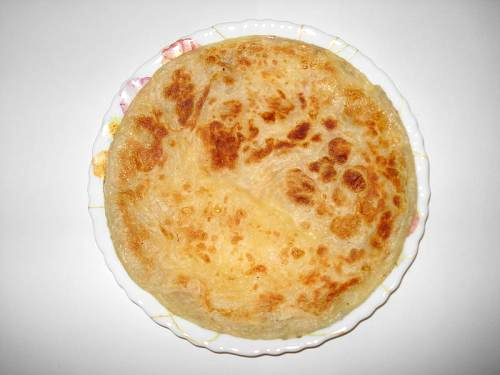 Ingredients
Flour

1 Cup (16 tbs)

Mango powder

1⁄2 Teaspoon

Potatoes

250 Gram

, boiled

Coriander leaves

1 Tablespoon

, chopped

Chili powder

1 1⁄2 Teaspoon

Ghee

2 Tablespoon
Nutrition Facts
Serving size: Complete recipe
Calories 943 Calories from Fat 284
% Daily Value*
Total Fat 32 g49.9%
Saturated Fat 18.9 g94.5%
Trans Fat 0 g
Cholesterol 80.4 mg
Sodium 105 mg4.4%
Total Carbohydrates 148 g49.4%
Dietary Fiber 11.9 g47.8%
Sugars 4.6 g
Protein 19 g38.4%
Vitamin A 65.5% Vitamin C 96.9%
Calcium 8.1% Iron 50.5%
*Based on a 2000 Calorie diet
Directions
Peel the potatoes and mash them with a fork.
Add the chilli and mango powders, and coriander leaves.
Mix them well.
Knead the flour and divide into eight.
Roll these out into thin rounds.
Spread the mashed potatoes on four of them, and cover with the remaining rounds.
Seal the edges and bake on a hot griddle with a liberal quantity of ghee. (Mung dal can be also used instead of potato.)
This paratha is excellent served at breakfast.