»

Recipes

»

Cheese

»

Potato, Pancetta And Plum Tomato Salad With Grana Padano Curls
Potato, Pancetta and Plum Tomato Salad with Grana Padano Curls Recipe
Get the hang of making clever melted Grana Padano cheese curls to use in this colourful salad recipe – they are delicious!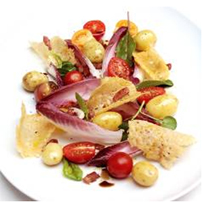 Ingredients
Baby new potatoes

18 Ounce

(500 Gram)

Cheese

2 Ounce

, finely grated (50 Grams)

Pancetta cubes/Streaky bacon

4 Ounce

, chopped (100 Gram)

Baby plum tomatoes

4 Ounce

, halved (100 Gram)

Mixed salad leaves

120 Gram

(1 Bag)

Spring onions

1 Bunch (100 gm)

, thinly sliced

Italian olive oil

4 Tablespoon

Balsamic vinegar

2 Tablespoon

(For Drizzling)
Nutrition Facts
Serving size
Calories 390 Calories from Fat 255
% Daily Value*
Total Fat 29 g44.3%
Saturated Fat 9.1 g45.3%
Trans Fat 0 g
Cholesterol 34.9 mg
Sodium 647.9 mg27%
Total Carbohydrates 20 g6.6%
Dietary Fiber 2.7 g10.7%
Sugars 4.2 g
Protein 10 g20.9%
Vitamin A 25.4% Vitamin C 38%
Calcium 17.6% Iron 3.4%
*Based on a 2000 Calorie diet
Directions
1. Cook the potatoes in lightly salted boiling water until tender, about 15 minutes.
2. Meanwhile, make the Grana Padano curls. Preheat a hot grill. Sprinkle small mounds of the grated cheese - about 1 tablespoon each - on to a non-stick baking sheet, allowing plenty of room for them to spread. Grill until melted, bubbling and golden brown. Carefully peel them off one at a time whilst still warm, and wrap loosely around the handle of a wooden spoon or rolling pin to curl them. Cool completely.
3. Heat a frying pan and add the pancetta cubes or streaky bacon. Cook until crispy, then drain on sheets of kitchen paper.
4. Arrange the salad leaves on 4 serving plates and top with the warm new potatoes, plum tomatoes and spring onions. Drizzle each salad with 1 tablespoon of olive oil and a little balsamic vinegar. Arrange the Grana Padano curls on each salad and serve immediately.
Cook's Tip: For a very clever canapé idea, make a batch of Grana Padano curls as above. Just before serving, fill them with a slice of prosciutto, or with thin slices of avocado and tomato.
To purchase Grana Padano cheese or any other Di Palo Select products visit
Dipaloselects.com
.