»

Recipes

»

Post-Easter Potstickers
Post-Easter Potstickers Recipe
Post-Easter Potstickers is delicious dish made from egg veg spice. Specially great for chrismas holiday.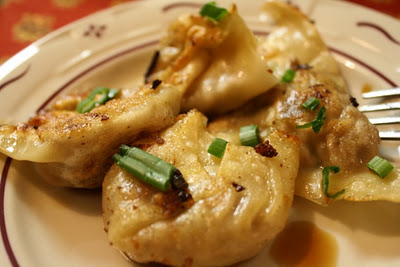 Ingredients
Chopped green onion

1⁄3 Cup (5.33 tbs)

(chopped finely)

Chopped celery

1⁄3 Cup (5.33 tbs)

(chopped finely)

Ground ginger

1⁄2 Teaspoon

Dry sherry

2 Tablespoon

Hard boiled eggs

6

, chopped

Hard-cooked eggs

6

, chopped

Wonton skins

24

Egg

1

, well beaten

Cooking oil

2 Tablespoon

Water

2⁄3 Cup (10.67 tbs)

(divided)

White wine vinegar

1⁄2 Cup (8 tbs)

Soy sauce

2 Tablespoon

Liquid hot pepper seasoning

1⁄2 Teaspoon

Cornstarch

2 Teaspoon
Nutrition Facts
Serving size
Calories 534 Calories from Fat 249
% Daily Value*
Total Fat 28 g42.7%
Saturated Fat 7.2 g36%
Trans Fat 0 g
Cholesterol 782.7 mg
Sodium 1019.8 mg42.5%
Total Carbohydrates 38 g12.6%
Dietary Fiber 1.8 g7.3%
Sugars 2.7 g
Protein 29 g58.2%
Vitamin A 36.5% Vitamin C 13.6%
Calcium 13.4% Iron 26.2%
*Based on a 2000 Calorie diet
Directions
Stir together first five ingredients. Place 1 tablespoon of mixture in center of each skin. Moisten edges with beaten egg. Fold over mixture, matching opposite corners. Pinch edges to seal. Place on platter or baking sheet, lightly pressing to flatten bottoms.
In large skillet over medium heat, cook 12 of the potstickers in 1 ta lespoon of oil until lightly browned on bottoms. Pour 1/3 cup water into pan. Reduce heat to low, cover and simmer until skins are translucent, about 5 minutes.

Repeat for remaining potstickers. In small saucepan stir together last four ingredients. Stir constantly over medium heat until mixture boils and is smooth and thickened. Serve with potstickers.