»

Recipes

»

Taco

»

Taco

»

Pork Tacos
Pork Tacos Recipe
Pork Tacos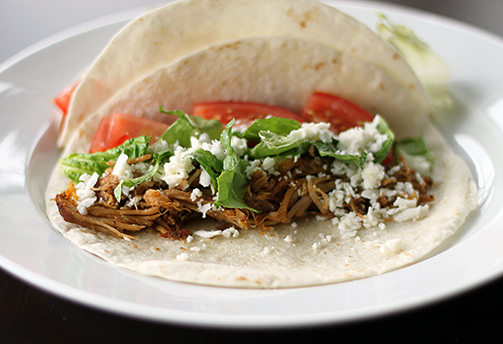 Ingredients
Lard/Bacon drippings

2 Tablespoon

Shredded cooked pork

2 Cup (32 tbs)

Onion

1 Small

, sliced and separated into rings

Garlic

1 Clove (5 gm)

, minced (Medium Clove)

Salt

To Taste

Lettuce leaves

6

, chopped

Tomato

1 Medium

, chopped

Grated monterey jack cheese

1 Cup (16 tbs)

Corn tortillas

10

Cooking oil

3 Tablespoon

Salsa

1⁄4 Cup (4 tbs)

(Any Kind)
Nutrition Facts
Serving size
Calories 503 Calories from Fat 252
% Daily Value*
Total Fat 29 g44.8%
Saturated Fat 11.3 g56.6%
Trans Fat 0 g
Cholesterol 56.1 mg
Sodium 599.3 mg25%
Total Carbohydrates 42 g14.1%
Dietary Fiber 2.6 g10.3%
Sugars 3.6 g
Protein 19 g37.5%
Vitamin A 28.3% Vitamin C 13.8%
Calcium 26.6% Iron 10.9%
*Based on a 2000 Calorie diet
Directions
1 Melt lard or drippings in a skillet. Add pork and cook, stirring occasionally, until lightly browned. Add onion and garlic and cook until onion is soft. Simmer, uncovered, for 5 minutes. Season with salt to taste. Meanwhile prepare lettuce, tomato and cheese. Fry tortillas and fold to make taco shells .
2 Spoon 2 to 3 tablespoons meat filling in each taco shell. Add rest of ingredients in layers.
3 Heat in a 400°F. oven until the cheese melts, about 5 minutes.