»

Recipes

»

Stuffing

»

Pork Crown Roast With Apricot Stuffing
Pork Crown Roast With Apricot Stuffing Recipe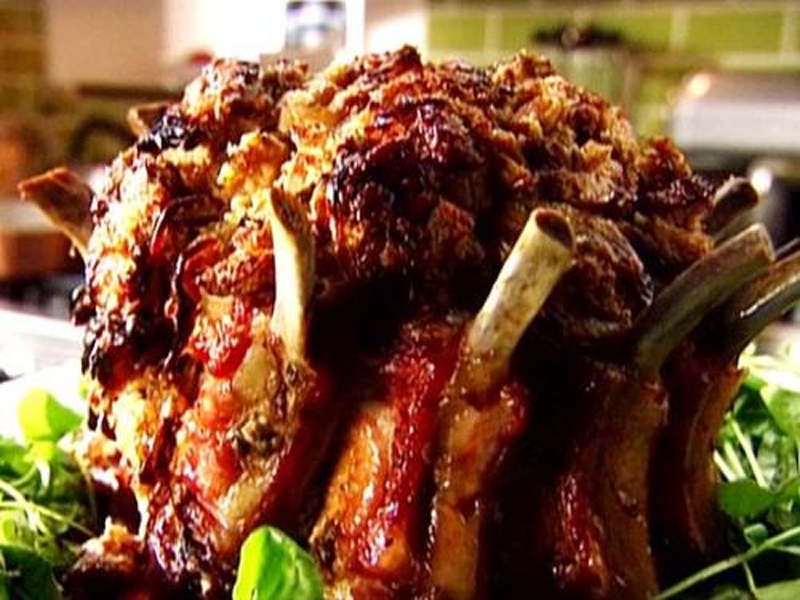 Ingredients
Pork rib crown roast

6 Pound

(12 To 16 Ribs)

Sugar

1 Tablespoon

Instant chicken bouillon granules

1 Teaspoon

Snipped dried apricots

1⁄4 Cup (4 tbs)

Dry whole wheat bread cubes

4 Cup (64 tbs)

(5 1/2 Slices)

Apple

1 Large

, peeled, cored, and chopped

Finely shredded orange peel

1⁄2 Teaspoon

Salt

1⁄2 Teaspoon

Ground sage

1⁄2 Teaspoon

Ground cinnamon

1⁄4 Teaspoon

Pepper

1⁄8 Teaspoon

Chopped celery

1⁄2 Cup (8 tbs)

Chopped onion

1⁄4 Cup (4 tbs)

Butter/Margarine

1⁄4 Cup (4 tbs)

Orange juice

1⁄4 Cup (4 tbs)

Light corn syrup

1 Tablespoon

Soy sauce

1⁄2 Teaspoon
Nutrition Facts
Serving size: Complete recipe
Calories 7364 Calories from Fat 3339
% Daily Value*
Total Fat 373 g573.6%
Saturated Fat 29.2 g146%
Trans Fat 0 g
Cholesterol 2297 mg
Sodium 2626.2 mg109.4%
Total Carbohydrates 260 g86.7%
Dietary Fiber 35 g140%
Sugars 65.3 g
Protein 712 g1424.1%
Vitamin A 64.8% Vitamin C 82.7%
Calcium 14.4% Iron 12.9%
*Based on a 2000 Calorie diet
Directions
Place roast, bone tips up, on rack in shallow roasting pan.
Season with a little salt and pepper.
Make a ball of aluminum foil and press into cavity to hold open.
Wrap bone tips with foil.
Insert meat thermometer, making sure bulb does not touch bone.
Roast at 325° for 2 1/2 hours.
Meanwhile, prepare stuffing.
Dissolve sugar and bouillon granules in 3/4 cup hot water; pour over apricots.
Let stand 5 minutes.
In large bowl combine bread cubes, apple, orange peel, salt, sage, cinnamon, and pepper.
Cook celery and onion in butter or margarine till tender; add to bread mixture.
Add apricot mixture; toss lightly to moisten.
Remove all foil from roast.
Pack stuffing lightly into center of roast, mounding high.
Combine orange juice, corn syrup, and soy sauce; spoon some over meat.
Roast, uncovered, till thermometer registers 170°, 45 to 60 minutes more; baste occasionally with orange juice mixture.
Carefully transfer to warm platter.
Garnish with canned apricot halves, if desired.
Slice between ribs to serve.