»

Recipes

»

Spanish

»

Pork And Beans Spanish Style
Pork and Beans Spanish Style Recipe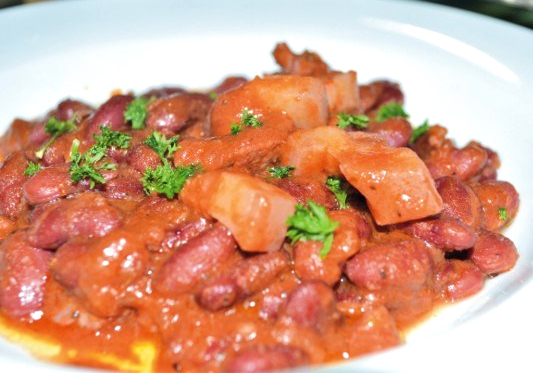 Ingredients
Butter beans

1 pound

, dried

Onion

1

Cloves

12

Garlic

2 Clove (5gm)

Boiling water

2 1/2 Pint

Oil

4 Tablespoon

Ground black pepper

1

Smoked Streaky Bacon OR Belly Pork - 1 pound piece

Salt

1 To taste
Directions
GETTING READY
1) In a large saucepan, add in the beans with enough cold water. Soak the beans overnight.

MAKING
2) Place the beans on boil the next day. Allow to cook for 15 minutes. Drain the beans and set aside.
3) Spike an onion with cloves. Add into the pan along with a peeled garlic, boiling water, pepper, oil. Add in the bacon or if using belly pork derinded and cut into thick rashers.
4) Cover the pan and cook on simmer for 1 1/2 hours. Sprinkle salt, mix and continue to cook for 30 more minutes.
5) Take the spiked onion and garlic out of the pan. Take the bacon or pork out along with the beans and transfer into a warm serving dish.
6) Let the cooking liquid reduce to about 1/4 pint. This can be done faster by boiling on high flame without a lid on.
7) Pour the liquid over the meat and beans.

SERVING
8) Serve the Pork And Beans Spanish Style with a crisp mixed salad or coleslaw on the side.