»

Recipes

»

European

»

Strudel

»

Poppy Seed Strudel
Poppy Seed Strudel Recipe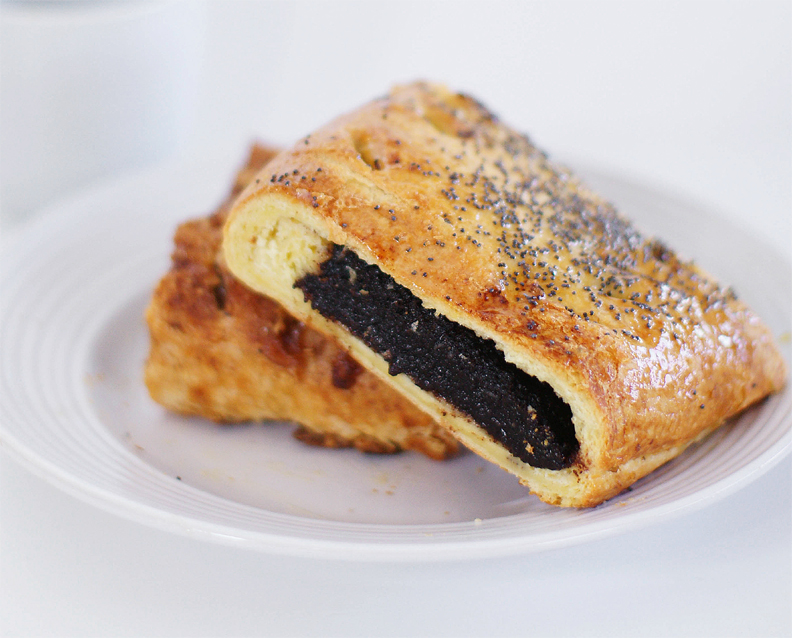 Ingredients
Ground poppy seeds

1 Pound

Honey

3⁄4 Cup (12 tbs)

Light cream

1⁄2 Cup (8 tbs)

Currants

1⁄2 Cup (8 tbs)

Grated lemon rind

1 Tablespoon

Melted butter

3 Tablespoon

Strudel dough

1

(ready to use)
Nutrition Facts
Serving size: Complete recipe
Calories 4024 Calories from Fat 2384
% Daily Value*
Total Fat 280 g430.8%
Saturated Fat 71.8 g358.8%
Trans Fat 0 g
Cholesterol 230 mg
Sodium 312.4 mg13%
Total Carbohydrates 346 g115.5%
Dietary Fiber 93.9 g375.6%
Sugars 203.3 g
Protein 89 g178.5%
Vitamin A 47.4% Vitamin C 81.1%
Calcium 670.7% Iron 261.1%
*Based on a 2000 Calorie diet
Directions
MAKING
1 In a pan, cook the poppy seeds, honey, cream and currants until thick.
2 Stir in the lemon rind.
3 Allow the mixture to cool.
4 Lightly oil the strudel dough.
5 Evenly spread the prepared mixture on it.
6 Carefully roll up in a jelly roll fashion.
7 Lightly brush with oil or melted butter.
8 Bake for 45 minutes at 350 degree F

SERVING
9 Cut into 1-inch slices while hot and use as desired.
Image Courtesy :
http://www.flickr.com/photos/artizone/6963835712/