»

Recipes

»

Salad

»

Poppy Chicken Salad
Poppy Chicken Salad Recipe
Poppy Chicken Salad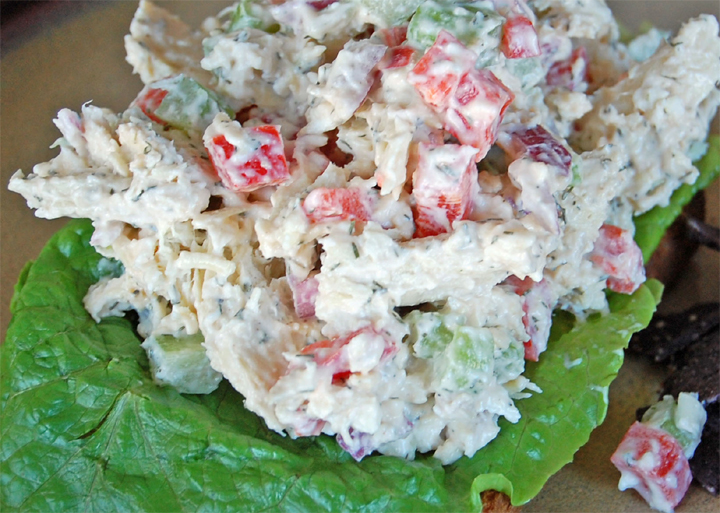 Ingredients
Light sour cream

1 Tablespoon

Reduced calorie mayonnaise

2 Teaspoon

Freshly squeezed lemon juice

1 Teaspoon

Poppy seed

1⁄2 Teaspoon

Cooked chicken

2 Ounce

, diced and chilled

Apple

2 Ounce

, cored, pared and cubed (1/2 Apple)

Celery

2 Tablespoon

, chopped

Scallion

1 Tablespoon

(Green Onion)

Pepper

1 Dash

Romaine lettuce leaves

1⁄2 Cup (8 tbs)

, torn

Spinach leaves

1⁄2 Cup (8 tbs)

, torn and trimmed, washed and drained
Nutrition Facts
Serving size
Calories 58 Calories from Fat 27
% Daily Value*
Total Fat 3 g4.6%
Saturated Fat 0.86 g4.3%
Trans Fat 0 g
Cholesterol 13 mg
Sodium 40.5 mg1.7%
Total Carbohydrates 4 g1.3%
Dietary Fiber 0.88 g3.5%
Sugars 1.9 g
Protein 4 g8.2%
Vitamin A 15.3% Vitamin C 7.1%
Calcium 2.8% Iron 2.6%
*Based on a 2000 Calorie diet
Directions
MAKING
1.Take a medium bowl and beat sour cream, lemon juice, mayonnaise and poppy seed with a wire whisk.
2. Then, add in the remaining ingredients excepting spinahc and lettuce and toss well to coat.

SERVING
3.Take a serving platter and line it with lettuce followed by spinach layer on top.
4.Spoon on the chicken mixture on top of spinach layer.
5. Refrigerare covered until serving.
6. Serve chilled.