»

Recipes

»

American

»

Popover

»

Popovers
Popovers Recipe
Popovers are simply out of the world!. The enticing flavor of this yummy baked Popovers have no equals at all. Try this Popovers recipe to understand what I am talking about.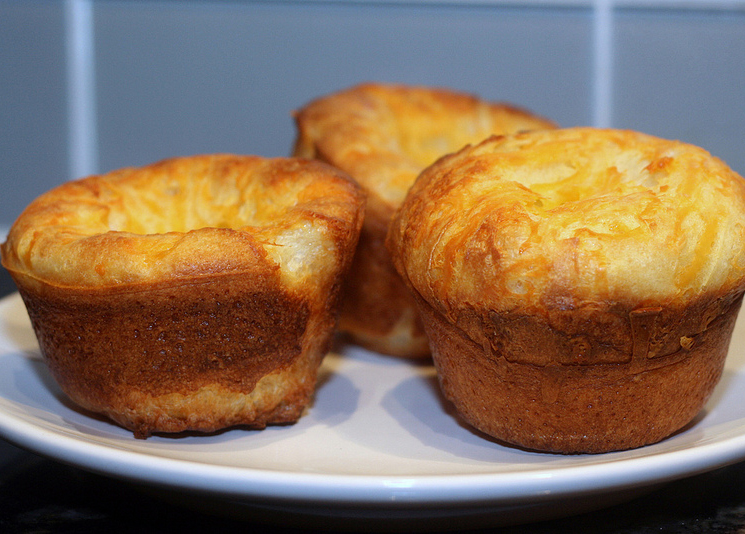 Ingredients
All purpose flour

1 Cup (16 tbs)

, sifted

Liquid fat

1⁄2 Teaspoon

Salt

1⁄4 Teaspoon

Milk

1 Cup (16 tbs)

Eggs

2
Nutrition Facts
Serving size: Complete recipe
Calories 756 Calories from Fat 188
% Daily Value*
Total Fat 21 g32.3%
Saturated Fat 7.8 g39.2%
Trans Fat 0 g
Cholesterol 445.6 mg
Sodium 717.4 mg29.9%
Total Carbohydrates 108 g36%
Dietary Fiber 3.4 g13.5%
Sugars 13 g
Protein 33 g65.5%
Vitamin A 14.4% Vitamin C
Calcium 32.7% Iron 42.8%
*Based on a 2000 Calorie diet
Directions
1. Grease 6-8 muffin tins or custard cups. Preheat in oven just before using.
Popover method:
1. Mix by muffin method but beat two minutes with rotary beater.
2. Fill prepared tins 1/2-2/3 full. Bake at 450° for 20 minutes. Reduce heat to 375° and leave about 15 minutes.
Image Courtesy :
http://www.flickr.com/photos/75231152@N00/6977953351/