»

Recipes

»

Salad

»

Pomegranate Christmas Salad With Holiday Vinaigrette
Pomegranate Christmas Salad With Holiday Vinaigrette Recipe
Pomegranate Feta Salad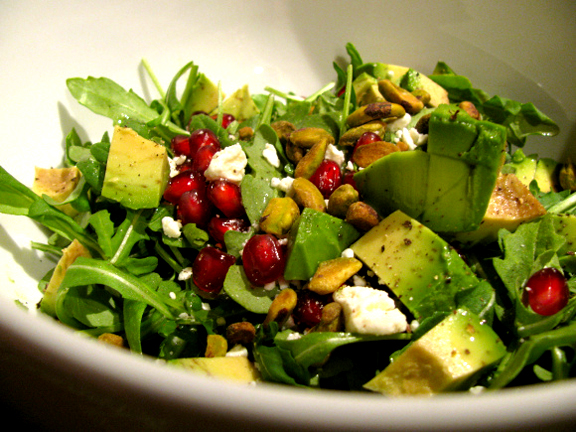 Ingredients
For holiday vinaigrette

Olive oil

1 Cup (16 tbs)

Lemons

2

, juiced

Rice vinegar

1⁄4 Cup (4 tbs)

Balsamic vinegar

1⁄4 Cup (4 tbs)

Sugar

1⁄2 Teaspoon

Salt

1⁄4 Teaspoon

Freshly ground pepper

1⁄4 Teaspoon

Garlic

1 Clove (5 gm)

, smashed

Pomegranate

1

Arugula

2 Bunch (200 gm)

Red leaf lettuce

1 Bunch (100 gm)

Baby mixed greens/Chopped romaine

3 Cup (48 tbs)

Crumbled feta cheese

1 Cup (16 tbs)
Nutrition Facts
Serving size: Complete recipe
Calories 2720 Calories from Fat 2235
% Daily Value*
Total Fat 253 g389.6%
Saturated Fat 52.9 g264.3%
Trans Fat 0 g
Cholesterol 133.5 mg
Sodium 2327.4 mg97%
Total Carbohydrates 101 g33.5%
Dietary Fiber 23.6 g94.5%
Sugars 61.5 g
Protein 36 g71.4%
Vitamin A 433.9% Vitamin C 348%
Calcium 129.5% Iron 60.8%
*Based on a 2000 Calorie diet
Directions
Mix the first 7 ingredients in a glass jar, then add the garlic.
Let sit for at least 1 hour or overnight.
Remove the garlic.
This will last 1 week in the refrigerator.
Cut the pomegranate in half and scoop out the seeds, making sure to discard the rind and membranes around the seeds.
Set the seeds aside.
Put the greens in a large salad bowl.
Add 1/2 cup of the vinaigrette and toss.
Sprinkle the feta and pomegranate seeds on top.