»

Recipes

»

Oceanian
Polynesian Shrimp Recipe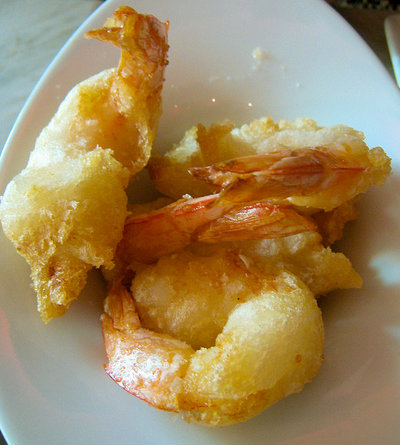 Ingredients
Flaked coconut

2 Cup (16 tbs)

Large Raw Shrimp- 2 pounds

Lemon juice

1/3 Cup (16 tbs)

Salt

1 1/2 Teaspoon

Powdered ginger

1/2 Teaspoon

(Curry Powder- 2 teaspoons)

Cornstarch

1/4 Cup (16 tbs)

(Curry Powder- 2 teaspoons)

Flour

2 Cup (16 tbs)

, sifted (Curry Powder- 2 teaspoons)

Baking powder

2 Teaspoon

(Curry Powder- 2 teaspoons)

Milk

3/4 Cup (16 tbs)

(Curry Powder- 2 teaspoons)

Fat- for deep frying
Directions
GETTING READY
1) Preheat the oven to 300°F.
2) Shell the shrimps, but do not remove the tail and devein them under running water. Drain well.
3) In a bowl, mix together the lemon juice, salt, curry powder, and ginger.
4) Marinate the shrimp in the mixture 3 hours.


MAKING
5) Spread the coconut on the baking sheet, place it in the oven and lightly brown it. Remove and cool.
6) Drain the shrimps, reserving the marinade.
7) Toss the shrimps with the cornstarch.
8) In a bowl, mix together flour, baking powder, milk, and marinade, to make smooth batter.

FINALIZING
9) Dip the shrimps in the batter and roll in the coconut.
10) Heat the fat to 375° F and fry the shrimps until browned evenly, about 5 minutes. Drain on paper napkin.

SERVING
11) Serve hot with curry sauce.
Image Courtesy :
http://www.flickr.com/photos/haynes/3428125148/