»

Recipes

»

Sauce

»

Polenta With Tomato Sauce
Polenta with Tomato Sauce Recipe
If you are bored of the usual, take delight in this super-delicious recipe for Polenta with Tomato Sauce. This Polenta with Tomato Sauce is perfect for a weekend special or to serve for special occasion. Finally you have something delicious, yet simple to make!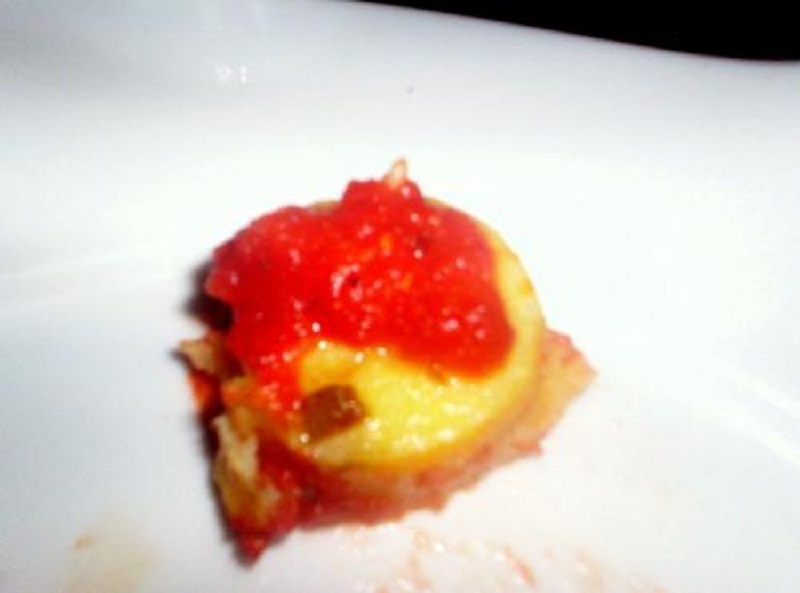 Ingredients
Corn meal

3/4 Cup (16 tbs)

Milk

2 Cup (16 tbs)

Egg – 1, slightly beaten

Parmesan cheese

1 Cup (16 tbs)

, grated

Garlic

2 Clove (5gm)

(Salad oil - 1/2 cup)

Onions

1/2 Cup (16 tbs)

, chopped (Salad oil - 1/2 cup)

Tomato paste – 1 can (6-ounce)

Tomatoes

1 Can (10oz)

(Salad oil - 1/2 cup)

Salt

To Taste

(Salad oil - 1/2 cup)

Pepper

1

(Salad oil - 1/2 cup)
Directions
GETTING READY
1) Preheat oven to 400° F.

MAKING
2) Take a saucepan and place corn meal in it.
3) Gradually add milk and stir until mixture becomes thick and comes to a boil.
4) Simmer for about 3 minutes and then remove from heat.
5) Beat in egg.
6) Add salt, pepper, 1/4 cup salad oil and 1/2 cup cheese.
7) Spread the prepared mixture to 1 1/2 inches depth in a pan and cool.
8) Cut into 3 inch rounds and arrange in a shallow baking dish.
9) Take a saucepan and heat remaining oil in it.
10) Add onions and garlic. Cook for about 3 minutes.
11) Discard the garlic and add all remaining ingredients. Mix well.
12) Pour tomato sauce around corn-meal rounds.
13) Sprinkle with remaining cheese and bake in the oven for about 30 minutes.

SERVING
14) Garnish with cheese, if desired. Serve hot.