»

Recipes

»

Roll

»

Cutlet

»

Poha Cutlet
poha cutlet Recipe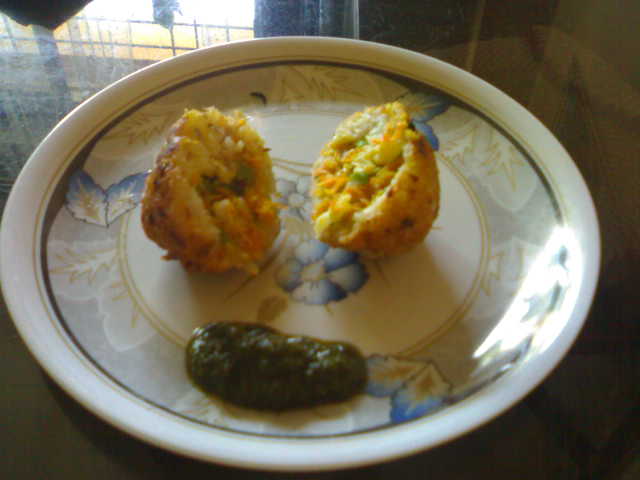 Ingredients
Poha

2 Cup (32 tbs)

(thin variety)

Carrot

1 Cup (16 tbs)

, grated

Capsicum

1⁄2 Cup (8 tbs)

, chopped

Onion

1 Medium

, chopped

Coconut

3 Teaspoon

, grated

Green chillies

4

, chopped

Cumin seeds

1 Teaspoon

Red chilli powder

1⁄2 Teaspoon

Chat masala

1 Teaspoon

Oil

2 Cup (32 tbs)

(to deep fry)
Nutrition Facts
Serving size
Calories 1112 Calories from Fat 1032
% Daily Value*
Total Fat 117 g179.8%
Saturated Fat 16.1 g80.4%
Trans Fat 0 g
Cholesterol 0 mg
Sodium 37.8 mg1.6%
Total Carbohydrates 19 g6.4%
Dietary Fiber 2.9 g11.7%
Sugars 4.9 g
Protein 3 g6%
Vitamin A 124.7% Vitamin C 86.8%
Calcium 4.6% Iron 11.6%
*Based on a 2000 Calorie diet
Directions
Heat 1 tbsp oil in a pot.
Add onions and green chillies. Add carrot when the onions are a little golden brown. Add capsicum after 2 mins. Add grated coconut, salt and chat masala and cook for 3 mins.
Let it cool.
Take the poha and rinse it with water. Add salt cumin seeds and chilli powder, knead it into a dough with adding very little water if needed.
Make small rounds of the dough. Flatten them in circular shape of 6-7 cms diameter. Put the carrot and capsicum mixture (about 2 tsp) in the middle and cover it from the sides and make a round ball. Similarly make other balls.
Heat oil to deep fry. When the oil is hot add the balls and deep fry till light golden.
Cut it into half before serving and serve with mint dip.

nasim patel says :
Excellent poha dish with an unique idea of making into cutlets. Will sure try out !!!!!!
Posted on:
31 March 2010 - 1:04pm

delicious picture of this poha cutlet . It's a very interesting and unique dish. Once I had tasted this dish at Indore. This dish is popular in Malwa region.
Posted on:
26 January 2008 - 6:27am