»

Recipes

»

Seafood

»

Poached Lobster-Tails In Court Bouillon
Poached Lobster-Tails In Court Bouillon Recipe
Poached Lobster-tails In Court Bouillon has a very different taste. It remains in your mind for a long time. The lobster tail has a new taste altogether. You will enjoy Poached Lobster-tails In Court Bouillon recipe. Poached Lobster-tails In Court Bouillon is a nice side dish.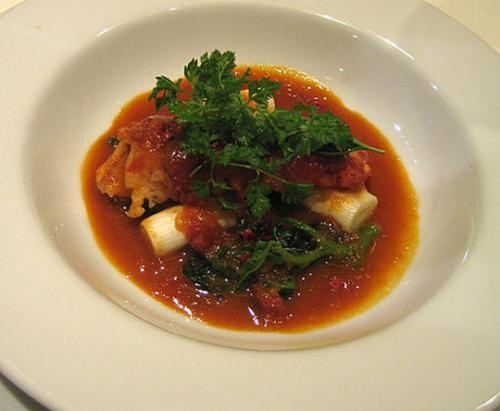 Ingredients
South African rock lobster-tails-6,(4-ounces), thawed

Water

6 Cup (16 tbs)

Salt

2 Teaspoon

Onion-11arge, diced

Carrots

4

Thyme

1/2 Teaspoon

Bay leaf

1

Peppercorns

6 To taste

Parsley

1 Small
Directions
GETTING READY
1)Cut thin underside membrane and remove meat from shells in 1 piece. Refrigerate them.
2)Clean the empty shells.

MAKING
3)Take a large kettle and put the shells at the bottom.
4)Add remaining ingredients. Bring to boil and remove scum.
5)Decrease heat and simmer for 30 minutes.
6)Strain it through fine sieve.
7)Take a pan and keep the clear broth enough to cover lobster-tails. Bring to boil.
8)Add whole lobster-tails and poach for 5 minutes.
9)Remove the tails from bouillon.

SERVING
10)Serve piping hot on platter.