»

Recipes

»

Fish

»

Planked Stuffed Shad
Planked Stuffed Shad Recipe
Planked stuffed shad is a stuffed fish recipe. Oven baked on the plank, the shad is stuffed with a creamed finnan haddie filling. Flavored with celery and parsley leaves along with spices, the planked stuffed shad is delicious and absolute delight for dinner parties and ocassions.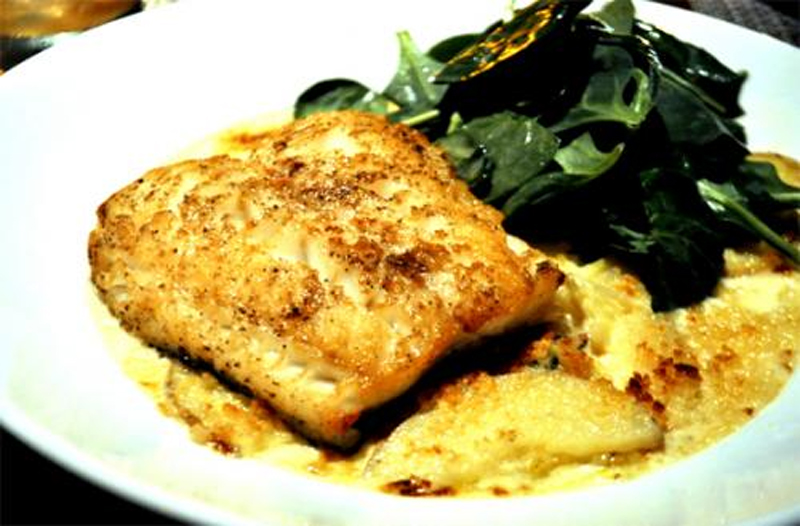 Ingredients
1 cup cooked finnan haddie

Onion

1 1/2 Teaspoon

, grated

Bread crumbs

2 Cup (16 tbs)

Salt

To Taste

Melted butter

3 Tablespoon

Pepper

1

Pinch each of nutmeg, thyme, and mace

Parsley

1/4 Cup (16 tbs)

, chopped

1/4 cup chopped celery leaves

Dry white wine
Directions
Prepare the plank by oiling well, then place in a cold oven, and bring the heat up to 400°.
Cook finnan haddie as for Creamed Finnan Haddie.
Work through a food grinder.
Combine with all ingredients and enough wine to hold the mixture together lightly.
Stuff fish and sew the opening together.
Reduce heat to 375°.
Place shad on the hot plank and bake, allowing 10 to 15 minutes per pound.
Baste frequently with melted butter.
Shortly before the fish is done, remove the plank from the oven.
With a pastry tube, pipe a border of Potatoes Duchesse around the edge of the plank.
Brush the potatoes with butter, return the plank to the oven, and bake until the fish is done and the potatoes delicately browned.
Before serving the planked shad, inside the border of potatoes arrange small bouquets of hot cooked vegetables, such as French green beans, glazed small white onions, asparagus tips with Hollandaise Sauce, or broiled mushroom caps.