»

Recipes

»

Salmon

»

Plank Salmon
Plank Salmon Recipe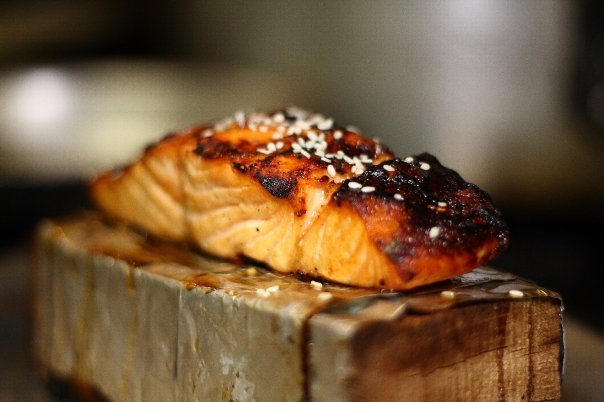 Ingredients
Sesame oil

2 Tablespoon

Brown sugar

3 Tablespoon

Dried dill weed

1 Teaspoon

Sesame seeds

1 Tablespoon

Water

3 Tablespoon

Salmon fillets with skin

6 Ounce

(4 No.)

Ground black pepper

1 Teaspoon

Soy sauce

1 Tablespoon

Lemon

1

, cut into wedges
Nutrition Facts
Serving size
Calories 191 Calories from Fat 96
% Daily Value*
Total Fat 11 g16.9%
Saturated Fat 1.6 g7.9%
Trans Fat 0 g
Cholesterol 22.1 mg
Sodium 243.9 mg10.2%
Total Carbohydrates 15 g5.2%
Dietary Fiber 1.7 g6.6%
Sugars 11.3 g
Protein 10 g19.9%
Vitamin A 2.6% Vitamin C 20.1%
Calcium 7.9% Iron 11.2%
*Based on a 2000 Calorie diet
Directions
Soak the "cedar" plank in water for at least 2 hours and up to 12.
Preheat the oven to 325 degrees F (165 degrees C).
Place the salmon on the plank, skin side down. In a small bowl, stir together the sesame oil, brown sugar, dill weed and sesame seeds. Stir in just enough water to make it liquid. Season with pepper and soy sauce if desired. Spoon the mixture over the salmon so it is fully coated.
Bake for 30 to 40 minutes in the preheated oven, until the fillet can be flaked with a fork.

On the Grill
Preheat a grill to medium heat. Place plank with fish on the grate and cover. Grill for about 25 minutes, or until fish can be flaked with a fork.

Anonymous says :
This recipe was AMAZING! I am NOT a great cook, but this made me look like a professional. It easy and restaurant quality. For a novice or expert it is a sure bet!
Posted on:
13 February 2010 - 1:36pm

Looks yummy!
Posted on:
4 November 2008 - 12:30am