»

Recipes

»

Pastry

»

Plain Pastry
Plain Pastry Recipe
Plain Pastry are the reason behind the success of my brothers pastry shops yummy pies. This brilliant Plain Pastry recipe is sure to serve you well. Try it!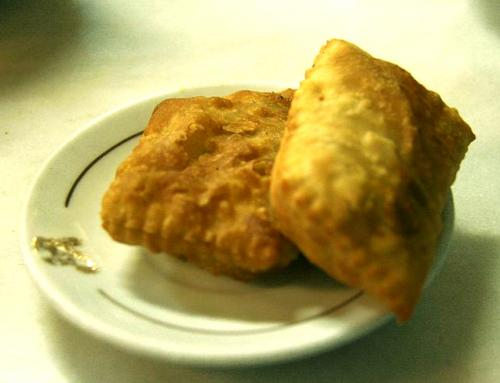 Ingredients
| | | |
| --- | --- | --- |
| | All purpose flour | 1 1⁄2 Cup (24 tbs) |
| | Salt | 1⁄2 Teaspoon |
| | Shortening | 1⁄2 Cup (8 tbs) |
| | Cold water | 5 Tablespoon |
| | All purpose flour | 2 Cup (32 tbs) |
| | Salt | 1 Teaspoon |
| | Shortening | 2⁄3 Cup (10.67 tbs) |
| | Cold water | 7 Tablespoon |
Nutrition Facts
Serving size: Complete recipe
Calories 3707 Calories from Fat 2150
% Daily Value*
Total Fat 243 g374.5%
Saturated Fat 60.4 g302.1%
Trans Fat 31.5 g
Cholesterol 0 mg
Sodium 2932.4 mg122.2%
Total Carbohydrates 334 g111.3%
Dietary Fiber 11.8 g47.3%
Sugars 1.2 g
Protein 45 g90.4%
Vitamin A Vitamin C
Calcium 7.5% Iron 113.8%
*Based on a 2000 Calorie diet
Directions
In mixing bowl stir flour and salt together thoroughly; cut in shortening with pastry blender till pieces are the size of small peas. (For extra-tender pastry, cut in half the shortening till like cornmeal. Cut in remaining till like small peas.) Sprinkle 1 tablespoon water over part of mixture.
Gently toss with fork; push to side of bowl.
Repeat till all is moistened.
Form into a ball. (For double-crust and lattice-top pies, divide dough in half and form into balls.) Flatten on lightly floured surface.
Roll from center to edge till 1/8 inch thick.
To bake single-crust pie shells: Fit pastry into 8-, 9-, or 10-inch pie plate; trim 1/2 to 1 inch beyond edge.
Fold under; flute edge by pressing dough with forefinger against wedge made of finger and thumb of other hand.
Prick bottom and sides well with fork. (If filling and crust are baked together, do not prick.) Bake at 450° till golden, 10 to 12 minutes.
For lattice-top pie: Trim lower crust 1/2 inch beyond edge of 8-, 9-, or 10-inch pie plate.
Roll remaining dough 1/8 inch thick.
Cut strips of pastry 1/2 to 3/4 inch wide with pastry wheel or knife.
Lay strips on filled pie at 1-inch intervals.
Fold back alternate strips to center.
Lay one strip crosswise.
Return folded strips to original position.
Repeat with alternate strips to complete lattice.
Trim lattice even with outer rim of pie plate; fold lower crust over strips.
Seal; flute edge.
For double-crust pie: Trim lower crust even with rim of 8-, 9-, or 10-inch pie plate.
Cut slits in top crust.
Lift pastry by rolling it over rolling pin.
Then unroll loosely over filled pie.
Trim 1/2 inch beyond edge.
Tuck top crust under edge of lower crust.
Flute edge.