»

Recipes

»

Pickle

»

Plain Lemon Pickle
Plain Lemon Pickle Recipe
This plain lemon pickle recipe is a simple recipe. Dried with a rub of salt, the plain lemon pickle is sharp and tangy to taste and can be used with homely meals.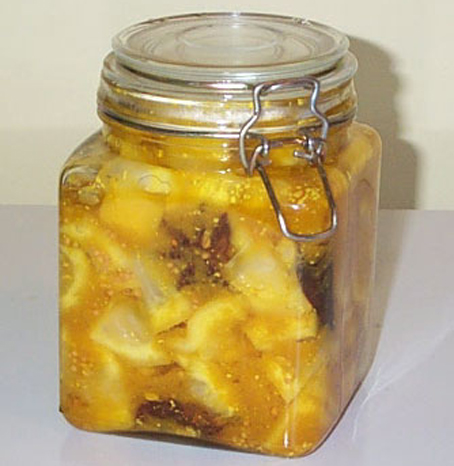 Summary
Health Index
Just Enjoy
Cuisine
Indian
Nutrition Facts
Serving size: Complete recipe
Calories 290 Calories from Fat 39
% Daily Value*
Total Fat 4 g6.7%
Saturated Fat 0.57 g2.8%
Trans Fat 0 g
Cholesterol 0 mg
Sodium 34926 mg1455.2%
Total Carbohydrates 155 g51.7%
Dietary Fiber 68.1 g272.6%
Sugars 0 g
Protein 17 g34.8%
Vitamin A 8.7% Vitamin C 1860.7%
Calcium 90.6% Iron 58%
*Based on a 2000 Calorie diet
Directions
1) Prick the lemons with a sharp needle.
2) Place them in a jar coated with salt in the sun for one month or till the lemons turn slightly golden brown.
3) The pickle is now ready to he kept for two years.
Image Courtesy :
http://commons.wikimedia.org/wiki/File:Lemon_pickle_star_anise.jpg