»

Recipes

»

Frittata

»

Pizza Frittata
Pizza Frittata Recipe
Pizza Frittata is delicious dish made from grains vegetables eggs chesse fruit. Specially great for holiday chrismas.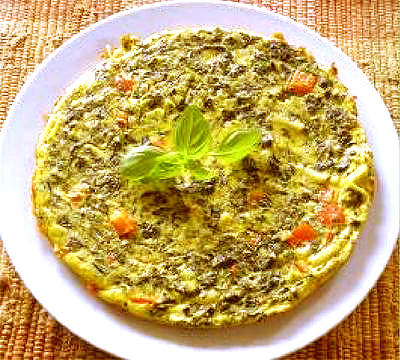 Summary
Preparation Time
15 Min
Cooking Time
25 Min
Ready In
40 Min
Difficulty Level
Easy
Health Index
Average
Servings
4
Ingredients
Eggs

6

, beaten

Skim milk/Low-fat milk

1⁄2 Cup (8 tbs)

Chopped green pepper

1⁄2 Cup (8 tbs)

Chopped seeded tomato

1 Cup (16 tbs)

Pepperoni slices

2 Ounce

, chopped (about 1/2 cup)

Dried oregano

1 Teaspoon

, crushed

Pepper

1 Dash

Cooking oil

1 Tablespoon

Shredded low-moisture,part-skim mozzarella cheese

2 Ounce

(about 1/2 cup)

Shredded low moisture part skim mozzarella

Bottle (0 l)

, ounce
Nutrition Facts
Serving size
Calories 456 Calories from Fat 284
% Daily Value*
Total Fat 32 g48.8%
Saturated Fat 13.4 g67.1%
Trans Fat 0 g
Cholesterol 372.5 mg
Sodium 845.2 mg35.2%
Total Carbohydrates 8 g2.5%
Dietary Fiber 1.5 g6.2%
Sugars 4.1 g
Protein 35 g70.4%
Vitamin A 31.1% Vitamin C 36.8%
Calcium 64.4% Iron 12%
*Based on a 2000 Calorie diet
Directions
In medium bowl, beat together eggs and milk until well blended. Stir in green pepper, tomato, pepperoni, oregano, and pepper. Set aside. Wrap handle of 10-inch omelet pan or skillet with foil to make it ovenproof. Over medium heat, heat oil in pan until just hot enough to sizzle a drop of water. Pour in egg mixture. Cover. Cook over low heat until eggs are almost set, about 10 to 12 minutes. Sprinkle with cheese and broil about 6 inches from heat until eggs are set and cheese is evenly melted, about 1 to 2 minutes. Slide onto serving platter and cut into 6 wedges. Serve with mixed greens and apple wedges, if desired.