»

Recipes

»

American

»

Pizza Turnovers
Pizza Turnovers Recipe
Turn over a new way to eat pizza! Your family will love it!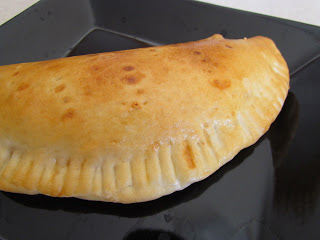 Ingredients
Refrigerated pizza crust dough

10 Ounce

Pizza sauce

1⁄4 Cup (4 tbs)

Shredded carrot

1⁄4 Cup (4 tbs)

Turkey pepperoni slices

24

Grated parmesan cheese

1 Tablespoon

Mozzarella cheese slice

1 1⁄2 Ounce

, cut in half
Nutrition Facts
Serving size
Calories 1280 Calories from Fat 536
% Daily Value*
Total Fat 62 g94.7%
Saturated Fat 24.4 g122.2%
Trans Fat 0 g
Cholesterol 531.6 mg177.2%
Sodium 9117.8 mg379.9%
Total Carbohydrates 58 g19.4%
Dietary Fiber 0.69 g2.7%
Sugars 3.8 g
Protein 132 g264.5%
Vitamin A 93.1% Vitamin C 3.3%
Calcium 22.6% Iron 15.5%
*Based on a 2000 Calorie diet
Directions
1. Heat oven to 400ºF. Roll pizza crust dough on lightly floured surface into 12-inch square. Cut dough into four 6-inch squares.
2. Spread 1 tablespoon pizza sauce on each square to within 1/2 inch of edges. Top with carrot, pepperoni and cheeses. Fold each square in half over filling; press edges to seal. Place on ungreased cookie sheet.
3. Bake 12 to 15 minutes or until light golden brown. Serve warm.