»

Recipes

»

Pizza

»

PITA PEPPERONI PIZZA
PITA PEPPERONI PIZZA Recipe
Lotsa different toppings can go on here to change it up. Anything that goes on a real pizza tastes good here. Extra veggies really don't push up the calorie count much…mushrooms, peppers, onions, broccoli, etc.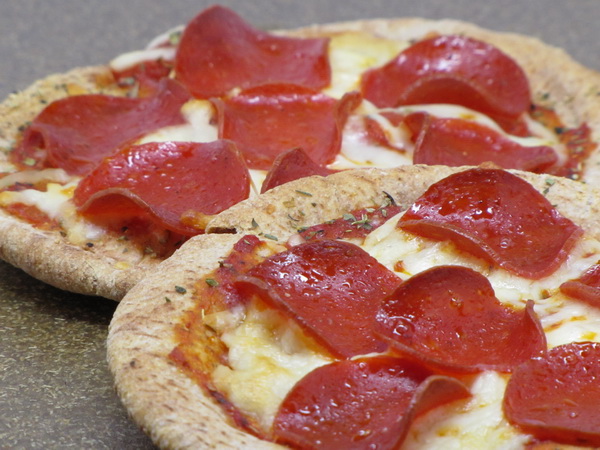 Ingredients
Whole wheat pitas

4

(6 Inch, Arnold'S Sahara Are A Good Low Cal Choice)

Marinara sauce

3⁄4 Cup (12 tbs)

Crushed red pepper

1⁄4 Teaspoon

Garlic powder

1⁄4 Teaspoon

Oregano

1⁄2 Teaspoon

Shredded low fat mozzarella cheese

1 Cup (16 tbs)

Turkey pepperoni slices

16

Olive oil

1⁄2 Tablespoon
Nutrition Facts
Serving size
Calories 324 Calories from Fat 107
% Daily Value*
Total Fat 14 g21%
Saturated Fat 4.6 g22.9%
Trans Fat 0 g
Cholesterol 59.5 mg
Sodium 942.9 mg39.3%
Total Carbohydrates 32 g10.6%
Dietary Fiber 4.2 g17%
Sugars 1.7 g
Protein 22 g44.1%
Vitamin A 4.1% Vitamin C 0.62%
Calcium 27.6% Iron 19.4%
*Based on a 2000 Calorie diet
Directions
Preheat oven to 350 degrees. Brush oil on the pitas. Spread with sauce and sprinkle with oregano, pepper and garlic powder. Sprinkle cheese over the tops. Add pepperoni slices. Cook for 15 minutes or until cheese is bubbly and starting to brown.
* 285 calories per serving
This recipe is excerpted from the book
400 or Less - Kid Friendly Recipes
by
Aileen Figula Kiter
. To purchase this book, please visit:
Amazon.Com