»

Recipes

»

Nut

»

Pistachio Kulfi
Pistachio Kulfi Recipe
The town of Lucknow in northern India is know for the sophistication of its cuisine. Kulfi, which originates from Lucknow, is a delicious creamy iced dessert which was served at the court of the nabobs in dishes carved out of ice. Try preparing this delicious recipe, which can be made without the use of an ice-cream machine. Traditionally, it was made in metal cones.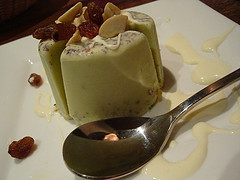 Summary
Preparation Time
15 Min
Cooking Time
1 Hr 15 Min
Ready In
1 Hr 30 Min
Difficulty Level
Medium
Ingredients
Whole milk

1 Liter

Creme fraiche

2 Tablespoon

(30 % fat)

Unsweetened condensed milk

500 Milliliter

Caster sugar

150 Gram

(5 1/2 oz)

Shelled almonds

40 Gram

(1 1/2 oz)

Unsalted pistachios

30 Gram

(1 1/4 oz)

Green cardamom

20
Nutrition Facts
Serving size
Calories 803 Calories from Fat 237
% Daily Value*
Total Fat 27 g41.5%
Saturated Fat 12.1 g60.5%
Trans Fat 0 g
Cholesterol 67.5 mg
Sodium 259.3 mg10.8%
Total Carbohydrates 124 g41.3%
Dietary Fiber 2.3 g9.3%
Sugars 119.3 g
Protein 21 g42.7%
Vitamin A 12% Vitamin C 6.5%
Calcium 67.9% Iron 6.5%
*Based on a 2000 Calorie diet
Directions
Crush the cardamom pods and extract the seeds. Choose a deep non-stick frying pan, so that the milk can evaporate quickly. Pour the milk into the pan and boil it with the cardamom seeds. Turn down the heat and cook for 1 hour, stiring frequently so that the milk does not catch on the bottom of the pan.

After an hour, the milk should have reduced by about half. Strain the milk through a sieve into a mixing bowl and wash the pan.

Grind the almonds and the pistachios, making sure that the powder is not too fine.

Pour the milk back into the pan, then add the condensed milk, the almonds and the pistachios. Stir well. Cook over a low heat for 15 minutes, stirring constantly so that a skin cannot form on the top.

Allow the mixture to cool at room temperature, stirring it occasionally. If a skin should form, mix it in. Then add the creme fraiche and stir it in carefully.

Pour the mixture into a large mould, preferably a metal one, and cover with clingfilm. Put it into the freezer. Stir it once or twice while the ice is forming, in order to mix in the pistachios and almonds properly. The ice cream will be ready after 6 to 8 hours. Leave it to soften slightly in the refrigerator for 20 minutes before serving.

You could use the same process to make a mango or peach ice cream.

I looooove the pic...though i mostly rely on outlets for my icecreams n kulfis, may be i'll try this at home. thanks for the recipe.
Posted on:
10 October 2008 - 3:59am

Hello Miroslav Yummy Kulfi and delicious. Wish I could taste it.
Posted on:
9 October 2008 - 7:04am
Hi Sviridya, Thank for your message. If you wish could taste it, you must make it. It will easy for you :)
Posted on:
9 October 2008 - 7:53am

Thank you :) I will try your recipe soon.
Posted on:
10 October 2008 - 3:11pm