»

Recipes

»

PISTA ICE CREAM
PISTA ICE CREAM Recipe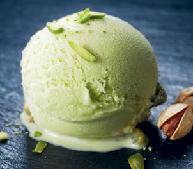 Ingredients
| | | |
| --- | --- | --- |
| | Curshed pista | 1 Teaspoon |
| | Crushed pista | 1 Teaspoon |
| | Milk | 3 Cup (48 tbs) |
| | Cornflour | 5 Tablespoon |
| | Corn flour | 5 Tablespoon |
| | Sugar | 3⁄4 Cup (12 tbs) |
| | Vanilla essence | 1 Teaspoon |
| | Cream | 1 Cup (16 tbs) |
| | Yellow color | 1 Teaspoon |
| | Yellow colour | 1 Teaspoon |
| | Green colour | 1 Teaspoon |
| | Green color | 1 Teaspoon |
Nutrition Facts
Serving size
Calories 620 Calories from Fat 82
% Daily Value*
Total Fat 9 g13.4%
Saturated Fat 5.3 g26.7%
Trans Fat 0 g
Cholesterol 21 mg
Sodium 177.7 mg7.4%
Total Carbohydrates 126 g42.2%
Dietary Fiber 0.59 g2.4%
Sugars 67.2 g
Protein 8 g16.2%
Vitamin A 5.8% Vitamin C 0.21%
Calcium 31.8% Iron 1.9%
*Based on a 2000 Calorie diet
Directions
• Dissolve corn flour in little water.
• Boil the milk and add the diluted corn flour. Cook until it becomes thick.
• Mix sugar and remove the milk from the flame and let it cool.
• Now add vanilla essence and colours to it.
• Beat the mixture and add cream.
• Keep the icecream in refrigerator for about an hour.
• Remove and beat it again.
• Add crushed pista. Again keep it for cooling.
• Pista Icecream is ready.

deepika nimje says :
Very nice recipe, I have one question ie do we have to take normal cream or whipping cream
Posted on:
24 April 2010 - 6:56am

Thanks for sharing this nice recipe. I think it would be a great choice as summer cooler.
Posted on:
21 April 2008 - 1:29pm

Thank you
Posted on:
23 April 2008 - 8:02am